Disclaimer:
When you click on link title "Check Live eBay Prices Here" on this site and make a purchase, this can result in this site earning a commission. Affiliate programs and affiliations include the eBay Partner Network. Check our Privacy Policy for more information.
Flash Comics
DC Comics // January 1940 - February 1949
Issue count: 104
DC Comics in the 40's just seemed to be racking up hit after hit, and when they introduced THE FLASH in 1939, he quickly became one of the most beloved heroes in their roster! Originals fetch top dollar! See our price guide!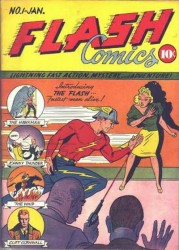 Fast on the heels of Superman and Batman, THE FLASH was introduced in Flash Comics in 1939.
An innovative character at the time, Flash was the first of the superheroes possessing the power of "super-speed." This particular trait would be immitated to lesser effect by other comic companies' heroes (hello, Timely and The Whizzer - I'm looking at you).
An appealing book not only because of it's lead stories, Flash Comics also featured a stellar supporting cast - pretty much being the permanent residence of Hawkman and Johnny Thunder, and, later on, The Atom and Black Canary.
Featuring art by greats Carmine Infantino, Lee Elias, Joe Kubert, and the fantastic Alex Toth!
These books are big-price items among collectors!
Read More
Looking to sell your comic books?
Browse our selection of key issues from Flash Comics below to get an instant estimate of their value.
We have been buying and selling for 20 years and have tons of experience working with sellers just like you!