Disclaimer:
When you click on link title "Check Live eBay Prices Here" on this site and make a purchase, this can result in this site earning a commission. Affiliate programs and affiliations include the eBay Partner Network. Check our Privacy Policy for more information.
Famous Funnies
Eastern Color // July 1934 - July 1955
Issue count: 218
You'll cry with laughter with these funny stories from before the Golden Age! See what copies that are floating around are selling for by using our online price guide.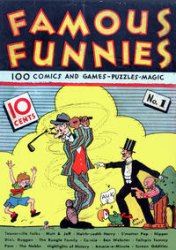 Famous Funnies appeared on the comic stands in 1939 and it was a huge success. So much so that the publisher dropped its original name and became "Famous Funnies, Inc.", dedicating itself to this series for over 20 years, non-stop. The series was appealing because it was extremely funny and provided comic relief during the war years. Plus they were long issues with over 60 pages, so one issue would last the reader a while. In 1955, the publisher had to close and cancel the issue, same as a lot of the comics being released at that time.
Read More
Looking to sell your comic books?
Browse our selection of key issues from Famous Funnies below to get an instant estimate of their value.
We have been buying and selling for 20 years and have tons of experience working with sellers just like you!