Disclaimer:
When you click on link title "Check Live eBay Prices Here" on this site and make a purchase, this can result in this site earning a commission. Affiliate programs and affiliations include the eBay Partner Network. Check our Privacy Policy for more information.
Doctor Strange
Marvel // June 1974 - February 1987
Issue count: 81
Stories about the Earth's Master of Mystic Arts! See what copies that are floating around are selling for by using our online price guide!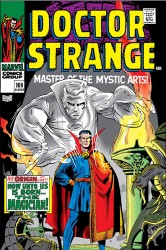 Following the events of Marvel Premiere #14, Marvel released Doctor Strange Vol. 2 in June 1974, offering a little bit more context and stories of Stephen Strange, the doctor that after losing his ability to perform operations went on a quest of magic and mysticism.

Doctor Strange Vol. 1 was released a few years ago, but at the time, there were only 14 issues released before the series was discontinued, as it didn't have enough readers to justify keeping it going. After some appearances from Strange in other comic books, Marvel decided to give it another try, with better results. Doctor Strange Vol. 2 ran for 81 issues, in a 14-year span.

Doctor Strange is highly regarded as Earth's most powerful human superhero, due to his use of the mystic arts and his responsibility to protect the Eye of Agamotto.
Read More
Looking to sell your comic books?
Browse our selection of key issues from Doctor Strange below to get an instant estimate of their value.
We have been buying and selling for 20 years and have tons of experience working with sellers just like you!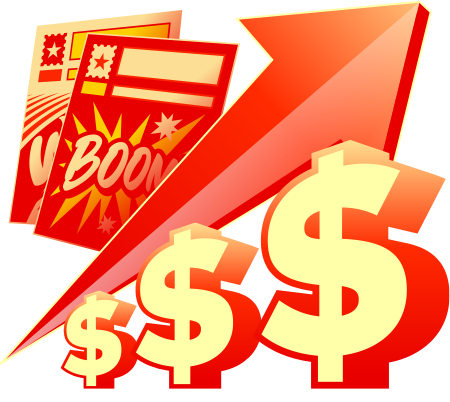 Issue #1
What's Doctor Strange #1 worth in 2023?
The most expensive Doctor Strange (1974) #1 to ever sell was a CGC grade NM/M 9.8 copy. The peak price was a whooping $3,800 which went on sale back in February 2022. A mid graded FN 6.0 was sold for $63 in April 2023 which is more than a three fold decrease from its April 2022 price tag of 200. The lowest grade copy to ever sell was a VG- 3.5 which went for $50 in August 2020.
Why is this comic book valuable?
Doctor Strange (1974) #1 was published in June 1974 by Marvel Comics. This issue was written by Steve Englehart and Frank Burnner. It was pencilled by Frank Burnner and Dick Giordano. This issue features the first appearance of Silver Dragger.
Key Facts About the Comic
The issue no.1 of Dr. Strange Master of the Mystic Arts shows Doctor Strange in a fight with the evil crytal ball.
Story Synopsis
The Silver Dragger puts out a plan and infiltrates the Sanctom. He finds Strange in the sanctom. He throws a silver dagger into Doctor Strange's back. He takes the Eye of Agamotto and Clea from Strange. Where the Doctor is pulled into the Orb of Agamotto. Where he meets a wierd looking cryptic hookah smoking Caterpillar.
Price Guide Report
| GD 2.0 | VG 4.0 | FN 6.0 | VF 8.0 | NM 9.4 | RECORD SALE! |
| --- | --- | --- | --- | --- | --- |
| $0 | $50 | $80 | $110 | $525 | $3,800 |
Issue #169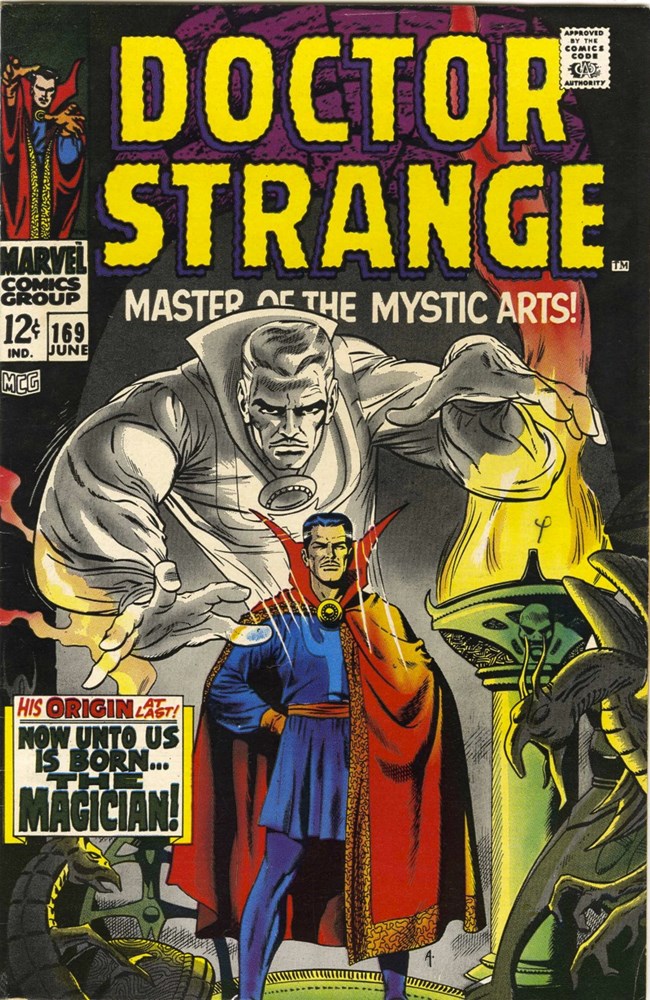 What's Doctor Strange #169 worth in 2023?
A very nice 9.8 copy of Doctor Strange Vol #169 was sold in December 2021 for $8,669, although it reached $10,800 in October 2020. A 5.5 copy, also sold in December 2021, was valued at $450, increasing its $425 price from four months before. And a 1.8 copy sold for $97 in April 2021, decreasing its $155 value from February 2021.
Why is this comic book valuable?
Issue #169 of Doctor Strange Vol. 1 is called "The Coming of... Doctor Strange". It was published in February 1968, with a cover date of June 1968. It was written by Roy Thomas and edited by Stan Lee, with pencil and ink by Dan Adkins, and lettering by Artie Simek.
Key Facts About the Comic
This is the first issue dedicated to Dr. Strange and it presents his origin story. The numbering continues from Strange Tales #168, which was renamed to Doctor Strange, which ran for 15 issues and then took a 48-year hiatus, until it was resumed in 2018 and ran for a few more issues. Then it was renamed again as Doctor Strange Vol. 5.
Story Synopsis
While recuperating at the Sanctum of his master the Ancient One, Doctor Strange sleeps and recalls the events that led to him becoming a master of the mystic arts.

As told in Strange Tales #115, Stephen Strange was a successful surgeon who had to suddenly retire due to a car accident. He then became a drunken derelict before he started a quest to restore his damaged hands.

Learning of the Ancient One and attempting to become his disciple, after displaying a show of selflessness by trying to protect the Ancient One from the machinations of Karl Mordo, he is allowed to train under the Ancient One's tutelage.

Strange awakens from his dream to the summons of the Ancient One.
Price Guide Report
| GD 2.0 | VG 4.0 | FN 6.0 | VF 8.0 | NM 9.4 | RECORD SALE! |
| --- | --- | --- | --- | --- | --- |
| $110 | $140 | $260 | $430 | $1,800 | $14,600 |