Disclaimer:
When you click on link title "Check Live eBay Prices Here" on this site and make a purchase, this can result in this site earning a commission. Affiliate programs and affiliations include the eBay Partner Network. Check our Privacy Policy for more information.
Crimes By Women
Fox // June 1948 - August 1951
Issue count: 15
Film noir style pulp comics with a Female twist.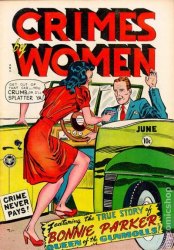 From June 1948 to August 1951 Fox Features Syndicate published this 10 cent comic that was a fusion of the Film Noir like pulp magizine comic strips and stories akin to the American True Crime genre that became such a multi media powerhouse decades later. While not as explicit as pulp horror comics it did have lurid covers and art one might expect in the pre comics code era. Both the true and fictional tales graced its pages, including that of Bonnie Parker, one half of the real life bank robbing duo Bonnie and Clyde. This showcase anthology series is filled with gun molls, psychopaths, and femme fatales engaging in seduction, waton violence, and other various criminal deeds.
Read More
Looking to sell your comic books?
Browse our selection of key issues from Crimes By Women below to get an instant estimate of their value.
We have been buying and selling for 20 years and have tons of experience working with sellers just like you!