Disclaimer:
When you click on link title "Check Live eBay Prices Here" on this site and make a purchase, this can result in this site earning a commission. Affiliate programs and affiliations include the eBay Partner Network. Check our Privacy Policy for more information.
Crime Suspenstories
EC // October-November 1950 - February-March 1955
Issue count: 27
EC was the hands-down leader in many genres-"crime"included. Their industry leading stories and art make them some of the most sought after and pricey books! If you have originals, you might be sitting on a goldmine! See examples by clicking above!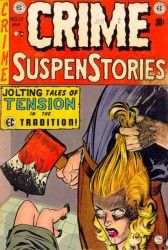 EC Comics were almost without peer in the late 40's through the mid-50's as far as chilling. imaginative stories, and, equally importantly, very high quality artwork. Although many companies offered horror and sci-fi titles, working for EC represented the pinnacle of comic book heights as far as the most desired company to work for.
It can be argued that Crime SuspenseStories was EC's flagship book (along with Vault of Horror and Weird Science); although it only ran 27 issues (November 1950 through March 1955), it really set the precedent for deranged stories of gruesome murders committed by mentally unstable individuals. And this was an oft-imitated and popular theme in comic books at the time! But EC did it masterfully…
In fact, if the sales philosophy was "the cover sells the book," then Crime SuspenseStories more than satisfied an audience's taste for the macabre; we got to see provocative images of dangling corpses, live burial, straight-razor wielding psychopaths, hatchet beheadings (issue #22 - particularly disturbing), gunshots with exploding heads, strangulations, drownings, hanging victims with eyes rolled back clearly in rigor-mortis state...
One must only look at the roster of creative talent involved over the years on this title to know that you were not dealing with your run-of-the-mill crime / horror book! Among the creative legends that worked on the title were Johnny Craig, Wally Wood, Harvey Kurtzman, Jack Kamen, Jack Davis, George Roussos, Al Williamson, Joe Orlando, Marie Severin, Bill Elder, Reed Crandall, Al Feldstein, Bernie Krigstein, and other notables…
The story is often told, but bears repeating, that there became a general upheaval about graphic content in comic books, and how that may have been a contributing factor in the supposed increase in juvenile delinquency. This theory was perpetuated by one Dr. Frederick Wertham, in his pop psychology-exploitation-sensationalist book Seduction Of The Innocent - in which he actually cited certain EC books as being particularly objectionable.
This all led to putting the proverbial "nail-in-the-coffin" for all of the publishers releasing horror and "real-crime" comics, who either ceased publication altogether, or offered more watered-down fare after being strong-armed to "voluntarily" adopt a code of the do's and don'ts for comic book content. Comics in general survived, and indeed experienced a renaissance-of-sorts when the big second superhero craze hit in the early to late 60's.
EC Comics, however, would make their money now through their wildly popular Mad Magazine.

All EC books from the late 40's to early 50's are highly collectible, but Crime SuspenseStories are demanding some astronomical prices on the market!
Read More
Looking to sell your comic books?
Browse our selection of key issues from Crime Suspenstories below to get an instant estimate of their value.
We have been buying and selling for 20 years and have tons of experience working with sellers just like you!