Disclaimer:
When you click on link title "Check Live eBay Prices Here" on this site and make a purchase, this can result in this site earning a commission. Affiliate programs and affiliations include the eBay Partner Network. Check our Privacy Policy for more information.
Copra
Copra Press // 2012 - Current
Issue count: 31
The unholy marriage between Fiffe's Zegas style and his love letter to Suicide Squad! See what copies that are floating around are selling for by using our online price guide!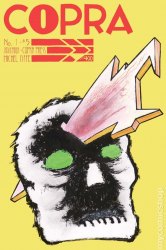 Copra was a limited edition comic released in 2012 featuring a team of heroes and villains and their adventures. The art, cover and stories were all very interesting and had a beautiful technique. That, along with an exciting, fun story, made it a highly sought series amongst collectors. The series has 31 issues, released from 2012 to 2017. It wasn't canceled as much as the story simply ended, but it's expected to eventually return with a second volume.
Read More
Looking to sell your comic books?
Browse our selection of key issues from Copra below to get an instant estimate of their value.
We have been buying and selling for 20 years and have tons of experience working with sellers just like you!