Disclaimer:
When you click on link title "Check Live eBay Prices Here" on this site and make a purchase, this can result in this site earning a commission. Affiliate programs and affiliations include the eBay Partner Network. Check our Privacy Policy for more information.
Crack Comics
Quality Comics // May 1940 - September 1949
Issue count: 62
Some of the first stories ever created by Will Eisner, Henry Kiefer and other legendary artists! See what copies that are floating around are selling for by using our online price guide!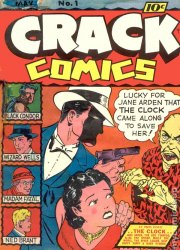 Crack Comics was an anthology series first released in 1940. It had a similar run to National Comics, even though the latter became more and more famous over time since it featured Uncle Sam as a main character and the US comic-book fans couldn't get enough of it. This series featured several stories per issue, with characters such as Wizard Zells, Ned Grant and Black Condor appearing at the center of the stories. The comic ran for almost nine years, finally being canceled in September 1949 after 62 issues were released. Some characters made appearances in other stories a few years later, but the comic was never re-published.
Read More
Looking to sell your comic books?
Browse our selection of key issues from Crack Comics below to get an instant estimate of their value.
We have been buying and selling for 20 years and have tons of experience working with sellers just like you!