Disclaimer:
When you click on link title "Check Live eBay Prices Here" on this site and make a purchase, this can result in this site earning a commission. Affiliate programs and affiliations include the eBay Partner Network. Check our Privacy Policy for more information.
Comedy Comics
Timely // April 1942 - Fall 1946
Issue count: 26
A rare "funny book" from Timely, featured some hero stories (CITIZEN V, THE FIN). Stan Lee wrote lots of stories for this rare, rare title! Not many on the market, which could drive prices up!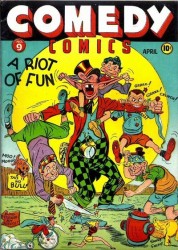 In the era of the 2nd World War, youngsters and teens alike sought comfort in the entertainment in the form of comic books which portrayed superheroes fighting evil, in general, and more specifically the scourge of the Axis powers that were storming through Europe and Asia.
But America needed to laugh, also. Many publishing houses filled the gap with humor and funny animal titles to some degree of success. However, Timely Comics (Marvel) had not been as well versed in this genre as some others; they knew that their "bread and butter" was with the costumed heroes. But, following fashion and taking a cue from their competitors, Timely felt the need to enter this potentially lucrative market.
Taking over the issue numbering from one of their cancelled hero books, Daring Mystery Comics - which only lasted 8 issues, Timely debuted the 68-page Comedy Comics #9 in April 1942, a scant few months after America entered the war.
Not being a company to waste material, the first two issues of Comedy Comics contain some superhero stories leftover from the previous title (The Silver Scorpion, Citizen V, The Fin by Bill Everett, captain Dash - formerly Captain Daring - ) along with some fairly generic humor strips featuring characters such as Tubby N' Tack, Trinket, The Comedy Kids, and L'il Professor and Rudy the robot. The second issue carried more generic humor pieces starring Otto, Daffy and Duffy, and Wheezy, along with the last-gasp of leftover hero stories (The Victory Boys, The Fourth Musketeer by Don Rico,and Monstro the Mighty).
Clearly, Comedy had not settled into a set roster as of yet - but despite that fact, there were a number of notable contributors to the book from the start, including a 21-year old Stan Lee, who not only wrote some pieces, but was appointed as Editor of the book. And impressive artists, some of which were not known to work in this genre - Mike Sekowsky, Al Gabriele,Charles Nicholas, Sol Brodsky, Chic Stone, Basil Wolverton ( who had a hit with his character Powerhouse Pepper for Timely), and Al Jaffee, of later Mad Magazine stardom.
Very shortly, Comedy Comics settled into a set group of characters that would star in each issue, most of them, like Puffy Pig, Super Rabbit, Waldo Wolf, and Korny Kat and Monty Mouse, were generic knock-offs of other companies hit characters.
With issue #15, log-time staffer Vince Fago took over the editing chores, as Stan Lee had been conscripted into the Army to help the war effort. And as the series progressed, all of the "name" talent disappeared - in fact credits for the stories and artwork for most of the material are unknown to this day! In fact Fago was gone as editor after issue #18, and it is not even known who was responsible for that duty until the end of the run.
Surprisingly, Comedy Comics ran for quite a while, until issue #34, dated Fall 1946. The war was over, and audiences were now preferring different things from comic books; one of them being beautiful young women in the "Betty and Veronica" mold, and in general, books geared to the tastes of the burgeoning "Teenage" culture. Comedy relented with that last issue( #34), which did not feature any anthropomorphic funny animals, but now starred characters Margie and Nellie the Nurse - sexy but sweet career-girl types.
Furthermore, when Timely resurrected the series in 1948, the stars of the Comedy Comics re-boot were Hedy, Millie the Model, and Tessie.
Comedy Comics is a collectible title if only because of its obscurity, and that it is such an anomaly in the Timely Comics canon. Check our online price guide to see if any issues are floating around on the collectors market!
Read More
Looking to sell your comic books?
Browse our selection of key issues from Comedy Comics below to get an instant estimate of their value.
We have been buying and selling for 20 years and have tons of experience working with sellers just like you!