Brave And The Bold #25
Published August-September 1959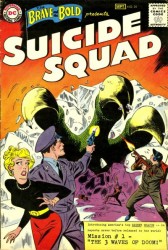 What's Brave And The Bold #25 worth in 2021?
The record sale was $25,000 in 2015 for a CGC NM- 9.2 grade. A FN 6.0 went for $1,250 in 2015, then climbed up to $1,800. The GD 2.0 went for $338 in 2018, and currently sells for $520.
Why is this comic book valuable?
"Brave and the Bold #25" (1959) was the first appearance of the Suicide Squad! When all other options fail to stop a deadly heated object heading straight towards a seaside resort, the military must call its new team, the Suicide Squad! The original team was made up of Col. Rick Flag, Dr. Hugh Evans, Jess Bright and Karin Grace.
Price Guide Report
| GD 2.0 | VG 4.0 | FN 6.0 | VF 8.0 | NM 9.4 | RECORD SALE! |
| --- | --- | --- | --- | --- | --- |
| $525 | $625 | $1,800 | $5,100 | $25,000 | $25,000 |