Disclaimer:
When you click on link title "Check Live eBay Prices Here" on this site and make a purchase, this can result in this site earning a commission. Affiliate programs and affiliations include the eBay Partner Network. Check our Privacy Policy for more information.
Boy Commandos
DC Comics // Winter 1942-1943 - November-December 1949
Issue count: 36
A great and often funny book, BOY COMMANDOS were, in essence, a group of misfit-wiseguy kids from Brooklyn that band together to go fight the Nazis in WWII! Rare early issues are Golden-Age favorites, but all the issues are valuable! Check details above..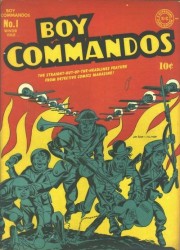 Boy Commandos is a fictional organization in the DC Comics universe making it's first appearance in Detective Comics #64 in 1942. Created by Joe Simon and Jack Kirby, the stories featured a "kid gang" (as groups of this type would come to be known) of characters. An international troupe of youngsters, the gang would fight "the Ratzies" (Nazis).
The creative team of Simon and Kirby was a great get for DC but oddly, they had been hired awy from Timley due to their success with Captain America, there was no grand idea from the creative team or DC waiting in the wings to be launched. They were given free reign to tap into the current catalogue of heroes and do what they wished. The two revamped Sandman and the Manhunter, not coincedentally, both heroes resembled quite strongly their previous creation, Captain America.
Hitting upon the growing popularity of teenage sidekicks such as Bucky, Robin and the like, Simon and Kirby would try to find success with a new young team that followed the mold of the Sentinels of Liberty they had created for Timely/Marvel to support Captain America. Even though America had not entered the war the idea of the British Commandos was fused into their idea and so came the boy Commandos.
This team of stalwart young fighters would become an instant hit and so popular in the pages of Detective Comics they started spilling over into the pages of other DC comics such as World's Finest. They team absolutely had to have their own book and so it was in the winter of '42 the Boy Commandos issue #1 would hit the stands.They became so popular so fast the team was selling as many comics as Superman and Batman at over a million books a month!
As the war expanded and the comic book became more and more in demand DC editors feared the worst. What if there star creators were drafted into service as other artists and writers had? It turns out that the fear was NOT unfounded. Liebowitz, Kirby's editor, was on Kirby to draw five pages a day of the title. But liebowitz wasn't finished, he needed the finished product in case the guys were pulled into service. He needed finished material so Simon & Kirby would be forced to hire letterers, inkers, colorists, and writers, to try and create a huge back supply of stories for whatever may come (Boy Commandos was also a quarterly title until Winter, 1945). Among those hired was a young Gil Kane, who recalls being:
Boy Commandos #1 (November 1949). Their first featured anthology series. Penciled by Jack Kirby, inked by Joe Simon.
Boy Commandos ran until issue #36 (Nov/Dec 1949), and was edited throughout by Jack Schiff while Kirby and Simon would be assisted by a number of young industry up-and-comers such as future legendary Superman artist Curt Swan, as well as Steve Brodie, Louis Cazeneuve and Carmine Infantino.
These early Boy Commando issues and appearances are still hugely popular. Not just with war comic collectors but with the folks who remember reading them as children and remember what the world was like under the cloud of WWII.
Read More
Looking to sell your comic books?
Browse our selection of key issues from Boy Commandos below to get an instant estimate of their value.
We have been buying and selling for 20 years and have tons of experience working with sellers just like you!