Brave And The Bold
DC Comics // August 1955 - July 1983
Issue count: 200
Started as an adventure themed book, Brave and The Bold became one of DC's "try-out" books, and introduced THE JUSTICE LEAGUE OF AMERICA, SUICIDE SQUAD, and the TEEN TITANS! It became a BATMAN team-up book, but the key early books can mean $$ in the bank!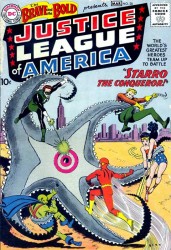 The Brave and The Bold, which hit the stands in 1955, became DC's flagship book for introducing new characters and resurrecting new incarnations of Golden-Age favorites.
Many, but not all, went on to earn their own titles after appering in TBATB, among them: THE VIKING PRINCE, THE SUICIDE SQUAD, THE JUSTICE LEAGUE OF AMERICA, HAWKMAN, THE GREEN ARROW, THE TEEN TITANS, METAMORPHO, STARMAN, BLACK CANARY...
From #74 (1967) on, the book would exclusively feature Batman teaming up with a different hero each issue.
This incarnation of the book, which ended in 1983, was also very enjoyable - often featuring the underrated artwork of Jim Aparo.
As far as valuable collectibles, though, those early key issues that introduced so many future stars are the most desireable!
Do you own a rare copy or collection of comic books from The Brave and the Bold series? Discover our comic book price guide for a free appraisal.
Read More
Looking to sell your comic books?
Browse our selection of key issues from Brave And The Bold below to get an instant estimate of their value.
We have been buying and selling for 20 years and have tons of experience working with sellers just like you!