Disclaimer:
When you click on link title "Check Live eBay Prices Here" on this site and make a purchase, this can result in this site earning a commission. Affiliate programs and affiliations include the eBay Partner Network. Check our Privacy Policy for more information.
Blue Beetle
Charlton // Winter 1939-1940 - February 1942; June 1944 - August 1950
Issue count: 40
One of the first superheroes from the comics, even older than Captain America! See what copies are selling for by using our online price guide!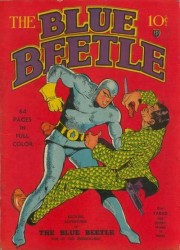 Blue Beetle is one of the most classic hero comics in history, and it is regarded as one of the comics that set the way for what we have today, along with Superman and The Human Torch stories from Marvel Comics. The issues followed the adventures of Blue Beetle, a costumed hero who decided to make good use of his powers and fight criminals. The stories were written by Will Eisner, creator of The Spirit and one of the fathers of comics. The series had a very good run for over nine years (it took a hiatus between February 1942 and June 1944) before being cancelled in 1950, after releasing 60 issues. Blue Beetle would return later in the 60s in guest appearances in other stories.
Read More
Looking to sell your comic books?
Browse our selection of key issues from Blue Beetle below to get an instant estimate of their value.
We have been buying and selling for 20 years and have tons of experience working with sellers just like you!