Disclaimer:
When you click on link title "Check Live eBay Prices Here" on this site and make a purchase, this can result in this site earning a commission. Affiliate programs and affiliations include the eBay Partner Network. Check our Privacy Policy for more information.
Blonde Phantom
Timely // Winter 1946 - March 1949
Issue count: 11
The adventures of the prettiest of all private detectives! See what copies that are floating around are selling for by using our online price guide!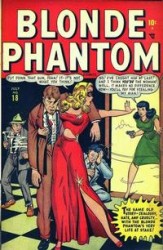 Blonde Phantom was a comic series released in 1946 following the adventures of Louise Grant, a secretary of a private detective who, at nights, donned a floor-length red evening gown, black domino mask, and high heels, and ventured out to fight crime. The series began when All Select Comics was rebranded after the release of issue #11. The stories of Blonde Phantom were a huge success and there was a huge demand for a series featuring her as the main character. The comic ran for two and a half years before being rebranded to Lovers, which carried on the same numbering and started with issue #23 (the last issue for Blonde Phantom was #22).
Read More
Looking to sell your comic books?
Browse our selection of key issues from Blonde Phantom below to get an instant estimate of their value.
We have been buying and selling for 20 years and have tons of experience working with sellers just like you!