Disclaimer:
When you click on link title "Check Live eBay Prices Here" on this site and make a purchase, this can result in this site earning a commission. Affiliate programs and affiliations include the eBay Partner Network. Check our Privacy Policy for more information.
Black Knight
Marvel // May 1955 - April 1956
Issue count: 5
Return to medieval times to follow the adventures of the greatest knight of all time! Find out what copies of this comic are selling for by using our online price guide!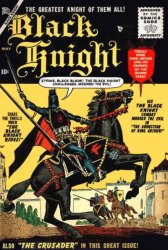 Black Knight was a series released by Marvel Comics in 1955. Volume 1 ran until the following year, with five releases over that time. In the beginning, the series told the adventures of Sir Percy of Scandia, featuring King Arthur, Wizard Merlin and the Knights of the Round Table as supporting characters. However, the series became more famous and relevant after the release of Volume 2, when the spirit of the Black Knight found Dane Whitman in present times and he became the new superhero, even going on adventures with the Avengers and other important Marvel Universe Characters. The first volume was cancelled after only five issues due to the low number of readers, but the release of Volume 2 changed that and now Black Knight is a major Marvel character, even rumoured to appear in the upcoming MCU movies.
Read More
Looking to sell your comic books?
Browse our selection of key issues from Black Knight below to get an instant estimate of their value.
We have been buying and selling for 20 years and have tons of experience working with sellers just like you!