Disclaimer:
When you click on link title "Check Live eBay Prices Here" on this site and make a purchase, this can result in this site earning a commission. Affiliate programs and affiliations include the eBay Partner Network. Check our Privacy Policy for more information.
Black Cat
Harvey // June-July 1946 - March 1958
Issue count: 62
Black Cat Comics/Black Cat Mystery was a peculiar entry from Harvey.It morphed from a hero comic to a pseudo-western title, then into a graphic horror-supernatural title; and it changed even MORE after that! All issues are rare and collectible!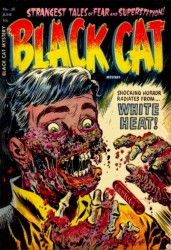 Black Cat, Black Cat Western, Black Cat Mystery, Black Cat Mystic...Harvey's title went through several changes over the course of it's 1946 - 1958 run.
Beginning as a vehicle for previously co-feature-only superheroine, The Black Cat - "Hollywood's Most Glamorous Detective Star," it was a pretty strong hero book featuring the Caniff-esque art of Lee Elias. But tastes were changing, moving away from superheroes, and beginning at about issue #20, the powers that be tried to morph the Black Cat character into a Western-genre comic book. It was a bizarre move, but the popularity of Western titles were on the rise, so I'm sure this made sense to someone at the company. It, however, did not resonate with the public in general, so Harvey returned The Black Cat to her former format.
But it became obvious that the character could not carry a book on her own, and so around issue #30, they started to not feature The Black Cat in any stories within the comic book for whom it was named.
Instead, it adopted the trendy "Anthology" format, featuring horror, suspense, crime and monster stories in each issue. Cleverly, they added the modifier "Mystery" to the title, and they were off and running; Harvey was now in the Horror game.
It became popular, and is the incarnation which is most fondly remembered by fans and collectors.
In this era between 1951 and the Spring of 1955, if you had a horror book, there were almost no boundaries as to how graphic you wanted to get on your covers. The sicker the better. And Black Cat Mystery was pretty darned sick. Issue after issue exposing their readers with images of bondage, electrocutions, live burials, disfigured nuclear-created mutants, monster child-abduction, graveyard zombies cavorting with provocatively dressed women, hangings, more female bondage, hostile native ritual-killings, mad scientists with their victim's shrunken-heads in beakers, men being eaten alive by rodents, implied cannibalism, and - the ultimate, in issue #50 - a man with his face exploding into a flesh-dripping mess from exposure to radium.
A book like this is often only as good as its artists - and Black Cat Mystery had a ton of talent gracing its pages; Rudy Palais, Bob Powell, Joe Certa, Manny Stallman, Jack Kirby, Rocco Mastroserio, Don Perlin, Jack Sparling, Al Avison, John Guinta, Mort Meskin, plus many others…
But, in early '55 came the voluntarily adopted "Comics Code Authority" placing tight restrictions on just how outrageous you could be with content. And thus, the gross-out era was over. Issue #53 from December of 1954 was the last issue to feature horror content, and Black Cat Mystery once again became just Black Cat, opting to run reprints of the superheroine's Hollywood and Western adventures from the late 40's.
Down, but not out, Harvey did try briefly to resurrect the book's former horror glory, with its last issues, #57 through #62, reverting back to that sort of faire and re-dubbing itself "Black Cat Mystic." But it was too late, the fire had gone out and could not be rekindled.. But to this day, horror comic fans are still in for a big treat when they are able to glimpse Black Cat Mystery in all of its "pre-code" glory.
Read More
Looking to sell your comic books?
Browse our selection of key issues from Black Cat below to get an instant estimate of their value.
We have been buying and selling for 20 years and have tons of experience working with sellers just like you!