Disclaimer:
When you click on link title "Check Live eBay Prices Here" on this site and make a purchase, this can result in this site earning a commission. Affiliate programs and affiliations include the eBay Partner Network. Check our Privacy Policy for more information.
Big Shot Comics
Columbia // May 1940 - November 1942
Issue count: 29
From funny stories to superhero stories…any story you want to read! You'll find it here. See what copies are selling for by using our online price guide!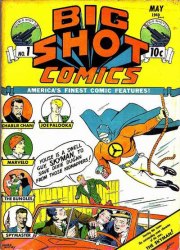 Big Shot Comics was a comic series released in May 1940 by Columbia Comics Group. They featured some short superhero stories, but after a few issues they started experimenting with funny stories and some reprints from other comics. The issues were 68 pages long and the audience took to them pretty fast, as they were long issues packed with stories and they were released every month. The series rebranded after 22 issues to Big Shot and stayed with that name until the cancellation of the comic nine years after its original release, after 104 issues.
Read More
Looking to sell your comic books?
Browse our selection of key issues from Big Shot Comics below to get an instant estimate of their value.
We have been buying and selling for 20 years and have tons of experience working with sellers just like you!