Disclaimer:
When you click on link title "Check Live eBay Prices Here" on this site and make a purchase, this can result in this site earning a commission. Affiliate programs and affiliations include the eBay Partner Network. Check our Privacy Policy for more information.
Authentic Police Cases
St. John // February 1948 - March 1955
Issue count: 31
Thrilling real cases from the guys in blue! See what copies that are floating around are selling for by using our online price guide!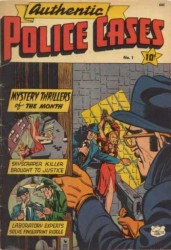 Authentic Police Cases was a true crime and suspense comic series released in 1948, featuring four or five police cases in comic format. It had a successful run, having released 38 issues before its cancellation.
Back in the early 50s, there were many new comics released that suffered a huge decrease in sales within a few years, mostly due to the fact that people loved to discover new stories and characters, so after a few issues with nothing new to read about, people often stopped buying them. This series was a victim of that phenomenon.
Read More
Looking to sell your comic books?
Browse our selection of key issues from Authentic Police Cases below to get an instant estimate of their value.
We have been buying and selling for 20 years and have tons of experience working with sellers just like you!