Disclaimer:
When you click on link title "Check Live eBay Prices Here" on this site and make a purchase, this can result in this site earning a commission. Affiliate programs and affiliations include the eBay Partner Network. Check our Privacy Policy for more information.
Atom
DC Comics // June-July 1962 - August-September 1968
Issue count: 38
Another DC hero that originated in the 40's, THE ATOM was given a face-lift and re-branded for the 60's. One of the most dynamic and innovative books of the era, these are getting hot on the collectors market! Do you have any issues?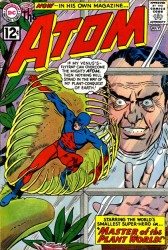 Comic lore, as it goes, tells us that early super fan Jerry Bails wrote to the National Comics (DC) editor Julius Schwartz in December 1960 detailing an idea to update Al Pratt, the Golden Age Atom. Future Marvel Comics editor-in-chief Roy Thomas and Bails supposedly collaborated on a suggested version that incorporated elements of the Golden Age hero, Doll Man, published by Quality Comics. Gardner Fox, who would eventually becomes the chief scribe for the Atom wrote Bails on January 1, 1961, stating that Schwartz passed along Bails' letter to him. And this is what he wrote...
"...so that I might write and let you know that okay okay okay (this is hush-hush) an Atom book may get under way in the next month or so. I am trying to cook up some "new" super-powers for him in.... Your own suggestions are excellent and most especially the one about the atomic compression of his body, which is to be a feature of the "new" Atom. I have seen art samples of how he will look. ... [A]t the present moment the intent is to make him a college student rather than the scientific experimenter you have in mind. This is all talk, mind you, nothing definite."
Wikipedia has this to say about the above situation - Schwartz wrote Bails on January 6 saying he had already been planning a new version of the Atom, in the vein of National's reimagined Golden Age superheroes the Flash and Green Lantern, and had already asked artist Gil Kane to sketch designs.[5] Kane, unaware of Bails' suggestions,[6] said he did "a series of drawings" on large illustration boards, including a depiction of the new Atom riding a German shepherd dog and another of a pistol firing at the Atom, who wore the costume he eventually would in his comic debut but without a belt.[7] Kane, who lived in Jericho, New York, on Long Island, at the time, drove to the nearby Hicksville home of DC production person Tom Nicolosi, who colored the drawings using St. Martin's dyes.[7] Schwartz, after seeing the drawings, had the belt added, a detail Kane said he disliked since "it broke up the costume lines."[8]
Schwartz said he had not wanted to reuse the Golden Age Atom, Al Pratt, and had read about dwarf stars and thought a fragment of one could power the new hero's miniaturization. He added that he and Fox together plotted the early stories of this new Silver Age Atom.[9] Fox said in 1979, "I doubt that any feedback from Bails or Thomas had very much of an influence, though always kept their ideas in the back of our minds."[10]
After all of this we would eventually find Showcase #34 (October 1961) containing the final version of the hero we know today as The Atom, whose alter ego, Ray Palmer, is an homage to famed science-fiction magazine editor Raymond A. Palmer.
What many find remarkable is that not too far after the Atom made his debut in Showcase a soon-to-be-popular Marvel Comics hero would make his own debut in Tales to Astonish #35 in September 1962. You know the hero as Hank Pym and/or Scott Lang a.k.a. the Ant-man. Hank and Scott would miraculously have gizmos on their belts to help them shrink and enlarge and would find themselves shrinking to a "molecular" level to traverse time and space. That's pretty much where the comparison ends but it certainly makes one think.
Read More
Looking to sell your comic books?
Browse our selection of key issues from Atom below to get an instant estimate of their value.
We have been buying and selling for 20 years and have tons of experience working with sellers just like you!