Disclaimer:
When you click on link title "Check Live eBay Prices Here" on this site and make a purchase, this can result in this site earning a commission. Affiliate programs and affiliations include the eBay Partner Network. Check our Privacy Policy for more information.
Astonishing
Atlas // April 1951 to August 1957
Issue count: 61
Excellent sci-fi/horror offering from Atlas in the 1950's, proving they could survive in the changing market. The first several issue feature a revamped Marvel Boy, but no heroes after that, only top-notch stories and art!Hard to find and pricey!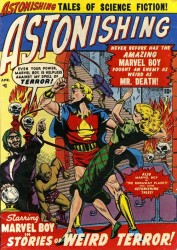 It took a little bit of time for Atlas Comics (formerly Timely Comics) to find their footing in the 1950's as far as the creative direction in which they wanted the company to go.
Astonishing is a prime example of this. Mostly, this title, which debuted in April 1951, is known by reputation as being one of the top-notch Horror-Suspense comics of its era - however, it was initially conceived as a vehicle for Bill Everett (who had given Timely so much in the late 30's through the 40's with his wildly popular creation Sub-Mariner), who had envisioned a science-fiction reboot of Marvel Boy, an obscure superhero character that got a sum total of 2 stories in Timely's Golden Age books.
And, in retrospect, the first four issues of Astonishing which featured 2 to 3 Marvel Boy stories per issue, is some of Everett's finest work in his canon. But the timing was horrible in that the industry had steered away from superheroes in general. They were passe. The people demanded horror and suspense titles (true crime and sci-fi, too).
So, Marvel Boy was gone beginning with issue #7. Sorry, Bill, but you have to draw murderers, monsters, aliens and the undead now. Which he willingly did, and very well, mind you. But the real point is that this is one of the earliest titles in which Atlas (Marvel) would cut their teeth on way to becoming an industry leader in the genre. An "Anthology" book, the company got up to speed in short manner by producing one high-quality issue after another.
With a still-very-young Stan Lee editing and contributing stories, Astonishing took an all-hands-on-deck approach in creative direction, employing a who's-who of artists either from the glory days of Timely (Everett, Carl Burgos, Don Rico, Syd Shores, Jack Kirby), or well established journeyman masters (Russ Heath, Bob Fujitani, Pete Morisi, Manny Stallman, George Roussos, Paul Reinman, Sheldon Moldoff, Doug Wildey, Bernard Bailey, Mort Meskin, Gray Morrow, Reed Crandall, Al Williamson), and even promising up-and-comers, many of whom would help build the Marvel Empire in the 1960's (John Romita, Joe Sinnott, Gene Colon, Dick Ayers, Jim Mooney, Jack Abel, Ross Andru, Don Perlin, Mike Esposito, Bob Powell, Werner Roth, John Severin, Joe Orlando, Don Heck, Steve Ditko, Marie Severin, Vince Colletta).
Phew! Quite an enormous pool of talent!
Along with other Atlas anthology comics (Strange Tales, Journey Into Mystery, and Adventures Into Terror), Astonishing stacks up pretty well. Also, many of these stories (aside from the Marvel Boy features) have not been reprinted in any form since the original run spanning 64 issues between 1951 and 1957, making this a particularly collectible book…
As the market prices have steadily been going up on horror/suspense/supernatural/monster titles from the 1950's recently, issues of Astonishing are growing more desirable and are being sought out like never before!
Read More
Looking to sell your comic books?
Browse our selection of key issues from Astonishing below to get an instant estimate of their value.
We have been buying and selling for 20 years and have tons of experience working with sellers just like you!