Disclaimer:
When you click on link title "Check Live eBay Prices Here" on this site and make a purchase, this can result in this site earning a commission. Affiliate programs and affiliations include the eBay Partner Network. Check our Privacy Policy for more information.
America's Best Comics
Nedor // February 1942 - July 1949
Issue count: 31
Some of the most classic characters in comic books! See what copies that are floating around are selling for by using our online price guide!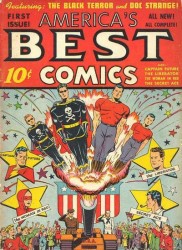 America's Best Comics was a series from the Golden Age, with its first issue releasing in February 1942. After a short gap, issue #2 was released in September 1942 and then they started to release new issues every 2 or 3 months, until the series cancellation in 1949. The issues included several stories featuring heroes such as The Black Terror, Doc Strange (this is Thomas Hugo Strange, not to be confused with Marvel's Dr. Stephen Strange), Captain Future and Woman in Red. After a few issues, some of the main characters from the stories stopped appearing and were replaced by other heroes, such as Jasper, Fighting Yank and Miss Masque. In July 1949, the series was canceled after issue #31. Some characters, such as The Black Terror, made appearances in other comics a few years later, but in most cases, the publisher had to change the name of the character due to copyright issues.
Read More
Looking to sell your comic books?
Browse our selection of key issues from America's Best Comics below to get an instant estimate of their value.
We have been buying and selling for 20 years and have tons of experience working with sellers just like you!