Zip Comics
Archie // February 1940 - Summer 1944
Issue count: 47
Another super superhero title from Archie comics. Steel Sterling, The Web, Blackjack - all favorites of discerning collectors and fetching some high prices! Click the title above and see!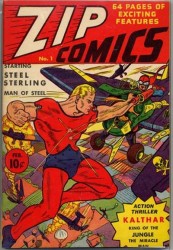 Read More
Looking to sell your comic books?
Browse our selection of key issues from Zip Comics below to get an instant estimate of their value.
We have been buying and selling for 20 years and have tons of experience working with sellers just like you!