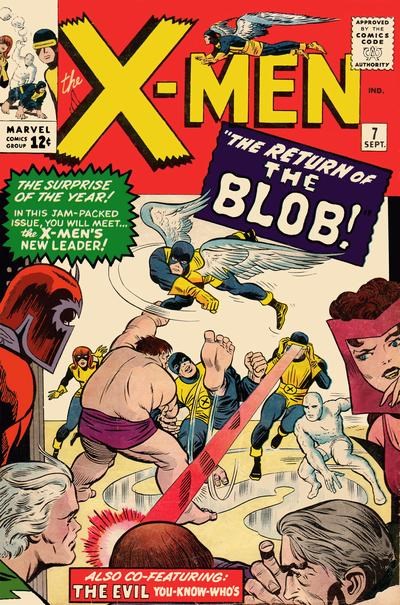 Marvel Comics introduced Zelda and Bernard the Poet in September 1964's X-Men #7.

The first class of X-Men are graduating from Professor Xavier's school for mutants. During this time, Professor X tells the mutants that he will select a new leader for the X-Men.

During this time, the Professor takes Cyclops to a part of the mansion where he shows him Cerebro and tells him that he is the new leader of the X-Men.

Elsewhere, Magneto finds 'The Blob' at a carnival where he gets him to join the Brotherhood, and Magento plans a fight against the X-Men later in the story.

While fighting against the X-Men, Magneto sends a salvo of missiles towards them that actually hit 'The Blob', which protects the X-Men and allows Magneto to escape.
Interesting Facts
X Men Number 7
Marvel Comics published X Men number 7 in September of 1964. The story was written by the legendary Stan Lee, while Jack Kirby did the pencilling. Additional credits go to Chic Stone for inking and Artie Simek for lettering.

The cover artists are Jack Kirby, Chic Stone and Art Simek.
This comic book is noted for the first appearance of Cerebro and also the X-Men's Graduation from Charles Xavier's School For Gifted Youngsters.

It is the first comic where a 'cure' for mutant powers is mentioned.

What's X-Men #7 worth in 2021?

X-Men #7 has no known mint condition value, with the highest-rated CGC evaluation is a NM+ 9.6 that sold for $8,788 in September 2019. A Don/Maggie Thompson Collection that was rated at a 9.2 sold for $1,195 in February 2014. A CGC rated 9.4 sold for the price of $2,645 in 2002, changing hands almost every year until it was bought for $2,032 in February 2018.
Price Guide Report
| GD 2.0 | VG 4.0 | FN 6.0 | VF 8.0 | NM 9.4 | RECORD SALE! |
| --- | --- | --- | --- | --- | --- |
| $50 | $125 | $225 | $625 | $2,025 | $8,788 |