Disclaimer:
When you click on link title "Check Live eBay Prices Here" on this site and make a purchase, this can result in this site earning a commission. Affiliate programs and affiliations include the eBay Partner Network. Check our Privacy Policy for more information.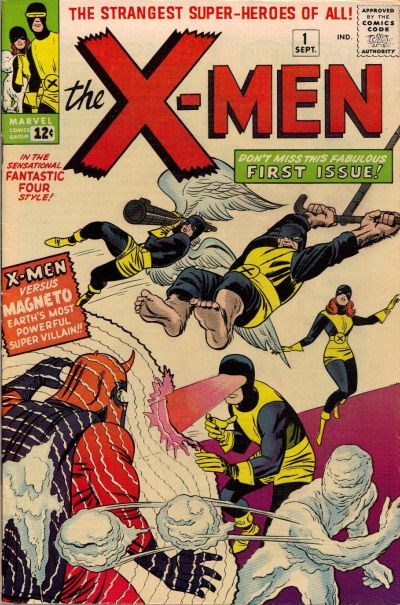 Published in September 1963 X-Men issue #1 is a classic title that would be a great addition to any collection.

Written by Stan Lee and the Penciler was Jack Kirby
Interesting Facts
This was the first outing of the legendary X-Men and the X-Men are transported via Helicopter rather than their Jet which is made famous by the films and comics.

In 1963 a Helicopter was at the time 'very high tech'. The comic will eventually be renamed the 'Uncanny X-Men' and it is in this first issues that the word 'uncanny' is ever mentioned.

It is actually stated by an army General featured in the comic. That General goes unnamed.
What's X-Men #1 worth in 2021?

While there is no known value for the original X-Men #1 in mint condition, we estimate a value of well over $500,000. The highest valued copy, a Pacific Coast edition, was rated a CGC 9.8 NM/M and sold for $492,938 in July 2012. Slightly more recently a CGC 9.2 that originally sold for $23,000 back in 2004 sold for $128,000 in September 2019.

Why is this comic book valuable?

The first edition of the X-Men is a key one because it is the first time they appear. Many iconic comic characters over the years appeared in other titles first, yet the X-Men get their own comic for their first appearance. Making X-Men #1 a classic title.

The X-Men featured in the comic are Cyclops, Jean Grey, Angel, Beats, Iceman and of course, Professor X. The villain of the story is Magneto and this is again a first appearance of that character.

The story revolves around the introduction of the X-Men to the world, in particular, this is told to a new character who is seen as a new student. Professor X tells Marvel Girl what the school does and this allows for the story of the school and the X-Men to be quickly explained to readers.

Marvel Girl is of course Jean Grey.

Magneto attacks an army base in this issue and it is the X-Men who get to save the day.

While at the base Magento imprisons the base with his powers of magnetism and creates a force field. Later Cyclops breaks through this force field and the X-Men battle with Magento.

Once defeated he flees the scene.
Price Guide Report
| GD 2.0 | VG 4.0 | FN 6.0 | VF 8.0 | NM 9.4 | RECORD SALE! |
| --- | --- | --- | --- | --- | --- |
| $3,225 | $5,625 | $10,475 | $26,350 | $153,125 | $871,999 |