Disclaimer:
When you click on link title "Check Live eBay Prices Here" on this site and make a purchase, this can result in this site earning a commission. Affiliate programs and affiliations include the eBay Partner Network. Check our Privacy Policy for more information.
Werewolf By Night
Marvel // September 1972 - March 1977
Issue count: 43
This is the book that introduced MOON KNIGHT in issue #32! He made his 2nd appearance in #33, and both of these are highly sought after! Click on the title to see current values!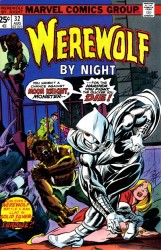 Continuing to follow the monster craze of the 70's, Marvel again decided to put it's stamp on another iconic character by re-imagining him as an anti-hero/superhero, which was their bread-and-butter. The result : WEREWOLF BY NIGHT!
To be fair, this version is not "The Wolfman", really, as he was not connected to previous cinematic incarnations of the character.
The series name was suggested by Stan Lee and the initial creative team was Gerry Conway and Mike Ploog, who worked from a plot by Roy and Jean Thomas for the first issue.
Making his debut in Marvel Spotlight #2 - #4 in 1971, and, proving popular, then moved to his own title in 1972, this werewolf was in fact Jacob "Jack" Russell (yup, a dog breed - coincidence?) Russell came from a lineage of werewolves, his father Gregor Russoff relocated his family to Los Angeles from Transylvania, giving his son an anglicised last name Russell, and giving his alias, Werewolf By Night a decidedly modern, American bent.
During the night of the full moon and the two nights surrounding it he is forced to mutate into a werewolf, a large, powerful form which is a hybrid of human and wolf, and loses his human intellect. Through a series of events, he is also capable of mutating voluntarily outside of the full moon, at which time he remains in control of himself.
As a werewolf, Jack gains the proportionate physical advantages of a nearly 7-foot-tall (2.1 m) wolf. In this form, he possesses superhuman strength, speed, stamina, durability, agility and reflexes. He possesses a superhuman sense of smell, which carries over to his human form. He has razor-sharp teeth and claws that are able to render light metals. The Werewolf is resistant to many forms of conventional injury and very difficult to kill by conventional means. Though he can be severely wounded, he recovers from non-fatal wounds much faster than a human would. He is vulnerable to magical attacks and, like all werewolves, he can be killed by weapons made of silver, due to its inherent mystical "purity".
Conway described working on the series as "a lot of fun" because the horror genre made a refreshing change from the superhero stories that had been the staple of mainstream comics for years.
Werewolf by Night was published for 43 issues and ran through March 1977. There are very collectible key issues within this run - in particular issues #32 and #33, which are the introduction and first 2 appearances by the wildly popular hero MOON KNIGHT!
Read More
Looking to sell your comic books?
Browse our selection of key issues from Werewolf By Night below to get an instant estimate of their value.
We have been buying and selling for 20 years and have tons of experience working with sellers just like you!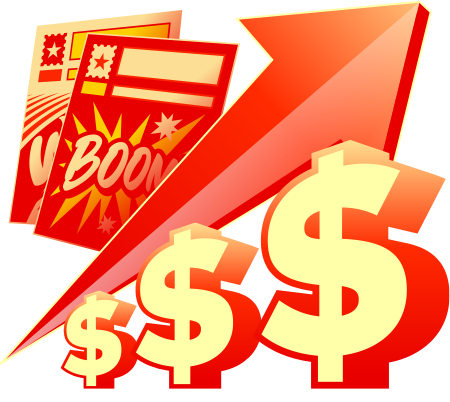 Issue #1
What's Werewolf By Night #1 worth in 2023?
The mint condition value of Werewolf By Night #1 is $4,995. This value is based on the highest CGC rated copy to sell at auction, which is a 9.8 NM/M that was signed by Ploog and Stan Lee that sold in November 2016. An unretouched 9.8 NM/M has an August 2007 value of $1,400, and an unretouched 9.6 NM+ sold for the price of $1,250 in March 2020, which is a decrease from its peak August 2019 value of $1,795.
Why is this comic book valuable?
The story of Jack the Werewolf from Marvel Spotlight #4 is continued in Werewolf By Night #1, published by Marvel Comics in September 1972. Buck and Jack escape from the island, but a pair of villains follow them to try to get their occult book back.
Price Guide Report
| GD 2.0 | VG 4.0 | FN 6.0 | VF 8.0 | NM 9.4 | RECORD SALE! |
| --- | --- | --- | --- | --- | --- |
| $25 | $25 | $100 | $150 | $625 | $48,380 |
Issue #32
What's Werewolf By Night #32 worth in 2023?
There are only 19 registered copies of Werewolf by Night #32 in NM/MT 9.8. Compare that to 119 of Wolverine's first appearance and one might say that the current value of this book is low in comparison. There are very few recorded sales of this book in 9.8 but it jumped from $3,000 in 2013 to $14,500 in 2015. In October of 2019 a lower grade NM+ 9.6 brought $12,000 showing the huge growth of the character's overall value. The ship has sailed on getting the high grade books "cheap" but there is still potential for growth given the current landscape. You can still grab mid grade books (FN 6.0) around $1,100 currently. However to understand how dramatically the book has increased let's look at 2009 when the book was bringing less than $75! That is nearly 15x the money! Low grade books were so valueLESS they weren't being tracked back in 2009 but now a GD 2.0 will run between $300 and $400. Buyer beware when purchasing in a hype driven market. While the books should enjoy permanent increased value there will be a settling period after things calm down. Only the extremely high grades will reap the initial reward.
Why is this comic book valuable?
Moon Knight was the brainchild of Doug Moench, prolific Marvel writer at the time. He collaborated with Len Wein to cement the final details over a phone call in early 1975. Contrary to popular belief the Moon Knight was not created to give Marvel a "Batman", if anything they already had one in billionaire genius Tony Stark. Moench was writing Werewolf by Night at the time and looking to put his stamp, his unique creation in the pantheon of Marvel story writing and needed a villain to hunt the Wolf. Moon Knight was garbed in silver and designed from the ground up to be a werewolf slayer. With the recent announcement by current owner, Disney, that the Moon Knight would be getting his own series the character has enjoyed renewed interest.
Price Guide Report
| GD 2.0 | VG 4.0 | FN 6.0 | VF 8.0 | NM 9.4 | RECORD SALE! |
| --- | --- | --- | --- | --- | --- |
| $350 | $575 | $700 | $1,400 | $3,875 | $70,500 |
Issue #33
What's Werewolf By Night #33 worth in 2023?
The mint condition value of Werewolf By Night #33 is $8,100. The highest-rated copy to sell publicly is an unretouched 9.8 NM/M that sold for in March 2020, which is an increase from its February 2007 price of $986. An unretouched 9.6 NM+ has an August 2019 value of $600, which is a decrease from its peak March 2019 price of $840 but an increase from its August 2003 value of $125.
Why is this comic book valuable?
Moon Knight makes his second-ever appearance in Werewolf By Night #33, published in September 1975 by Marvel Comics. Marc Spector is Moon Knight, who has been charged by The Committee to capture Werewolf. Moon Knight manages to deliver him to the Committee, but has second thoughts and helps Jack escape.
Price Guide Report
| GD 2.0 | VG 4.0 | FN 6.0 | VF 8.0 | NM 9.4 | RECORD SALE! |
| --- | --- | --- | --- | --- | --- |
| $15 | $30 | $75 | $150 | $425 | $13,200 |