Disclaimer:
When you click on link title "Check Live eBay Prices Here" on this site and make a purchase, this can result in this site earning a commission. Affiliate programs and affiliations include the eBay Partner Network. Check our Privacy Policy for more information.
Web Of Evil
Quality Comics // November 1952 - December 1954
Issue count: 21
Former purveyors of excellent superhero comics, Quality Publications jumped into the horror arena with Web Of Evil, which proved they could really do all kinds of material very, very well! All 21 issues are worth hunting down!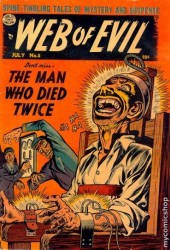 If a collector was forced to pick just one pre-horror comic that proto-typically represented the genre, Quality's Web Of Evil would be a prime contender.

It rivaled EC's horror comics, often considered the measuring stick for greatness in this genre. With its smart writing, consistently high-end artwork, and willingness to push-the-envelope with its, violent, graphic depiction of scenes of the macabre, Web Of Evil, as with several EC horror titles, ended up getting Quality Comics in hot water, metaphorically.

Quality Comics is a publisher that is not given the reverence that it should enjoy; if there were justice in this department, their name would be as recognizable as Marvel or DC (or even EC!) today.

Perhaps the biggest obstacle to the appreciation of Quality's legacy is the fact that they had the misfortune of going out of business, with most of their assets (their stable of characters), being absorbed by "The Big Man."

Dig-if-you-wlll the iconic characters, and the genius for nurturing talent that they gave us:

Plastic Man (and Police Comics); Blackhawk (and Military Comics) ; Uncle Sam (National Comics); The Ray (Smash Comics); Kid Eternity; Black Condor, Neon The Unknown, The Red Bee, Quicksilver (Hit Comics); Captain Triumph (Crack Comics); The Spirit and Lady Luck - presented for the first time in book-form; Torchy!; Doll Man (Feature Comics); The Human Bomb; Phantom Lady.

Amazing cast of characters, eh? Some of them may not be household names, and some may be recognizable due to DC comics, who have used them over the years in various books after acquiring the dormant rights - but what really pushed these titles and heroes over the edge to make them really attractive to collect, was the stable of artists that could rival, and maybe even exceed, the staff artists at the big publishers…

At various times, Quality had used the talents of these top illustrators : Jack Cole; Lou Fine; Reed Crandall; Al McWilliams; Ruben Moriera; Paul Gustavson; Fred Guardineer; Rudy Palais; Mac Raboy; Bill Ward; Gil Kane; Gil Fox; Al Gabriele; Ross Andru, Will Eisner; Bob Powell; Bob Fujitani; Nick Cardy; Henry Kiefer, George Tuska.

Even Quality's "second-stringers" were producing work much more creative than several of Marvel and DC's men. Names like Al Stahl; Pete Riss, Klaus Nordling; Alex Kotzky; Alfred Andriola; Charles Sultan, Alice Kirkpatrick, Al Bryant; Bill Quackenbush; Frank Borth - toiled just as hard to put forth their best material as their better-known contemporaries.

It follows logic that when the hero craze had waned, you could count on Quality to transition to the new popular genres with the same work ethic that they had displayed during their 1940s heyday. The industry demanded that they come out with at least one Horror title, if only for reasons financial - Horror was hot! And was flying off the newsstands.

A lesser company may have entered the horror game half-heartedly. But Quality Comics went "all-in" when they produced a gem of a book! In November of 1952, they debuted Web OF Evil, considered one of the most revered and collectible of the pre-code horror books. With it's dynamic, over-the-top covers and sincerely spooky, graphically violent tales inside, they absolutely gave EC Comics a run for their money.

Other, smaller companies may have been content to simply imply the gore and the death within their stories; Web Of Evil hadn't such qualms : offering more than the requisite amount of "Zombie" tales, readers were liberally treated with actually shown images such as : Humans being chomped on by alligators; flesh melting off of live, burning people (this image was used more than once!); rolling, reddened eyes popping out of a hanging victim whose neck had clearly been snapped, as the exaggerated angle of his dancing body more than evident; large monsters of unknown origin with a mouth full of humans and various parts sticking out; creatures heads exploding into a mess of fleshy-goo; maniacal laughter and dancing bodies of mentally deranged sociopaths being put to death in the electric chair (again, an image used more than once); accurate depictions of stranglings, as with zombies, were often standard recurring fare; and for good measure, later in the run, we got the requisite vengeful monster borne of genetic mutation from the Atom-Bomb (always a crowd-pleaser!)

It is almost overly-documented that a morality code was imposed on these kinds of titles, and put lots of smaller publishers out of business. Web Of Evil was one comic that was actually singled-out by name for being particularly harmful to the minds of American youth in Dr. Frederic Wertham's notoriously misguided, reactionary faux-psychology expose of the comic book industry "The Seduction of The Innocent."

Ironically, and with some sense of karmic-justice, Wertham's crusade is at least partially responsible for making every issue of Quality's Web Of Evil extremely sought after, with prices reaching astronomical proportions on the collectors market.

To quote Ira Gershwin, "Ohhh, who's got the last laugh now."
Read More
Looking to sell your comic books?
Browse our selection of key issues from Web Of Evil below to get an instant estimate of their value.
We have been buying and selling for 20 years and have tons of experience working with sellers just like you!