Disclaimer:
When you click on link title "Check Live eBay Prices Here" on this site and make a purchase, this can result in this site earning a commission. Affiliate programs and affiliations include the eBay Partner Network. Check our Privacy Policy for more information.
Walt Disney's Comics And Stories
Dell // October 1940 - August 1962
Issue count: 264
Walt Disney's Comics and Stories is one of the most nostalgic comic book series and fans are always ready to pay top dollar just to get their hands on any of its titles.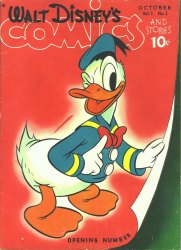 Walt Disney's Comics and Stories is the Longest running American comic book series with more than 700 issues till date. This series is filled with many nostalgic evergreen characters from The Walt Disney Company such as Mickey Mouse, Donald Duck, Scrooge, Bucky Bug, and many more. Whether you are from the 1950s or a Gen Z, its are no braining that you are a fan of these character or atleast have a childhood affiliation with them. This series was initially published by Dell Comics from 1940-1962. Over the years, this series had many revivals from Gold Key Comics from 1962- 1984, Gladstone Publishing from 1986 to 1990, Disney Comics from 1990 to 1993, Back to Gladstone Publishing from 1993 to 1999. After a couple of year pause, this Walt Disney's Comics and Stories had another revival from Gemstone Publishing from 2003 to 2008, Boom! Studios from 2009 to 2011 and IDW Publishing from 2015 to 2020. Till date, this series mark a flagship title to one of the best selling comic book series of all time.
Read More
Looking to sell your comic books?
Browse our selection of key issues from Walt Disney's Comics And Stories below to get an instant estimate of their value.
We have been buying and selling for 20 years and have tons of experience working with sellers just like you!