Disclaimer:
When you click on link title "Check Live eBay Prices Here" on this site and make a purchase, this can result in this site earning a commission. Affiliate programs and affiliations include the eBay Partner Network. Check our Privacy Policy for more information.
Terry-Toon Comics
Timely // August 1942 - November 1946
Issue count: 52
Cartoon Humor Comic based on the Terry-Toons characters.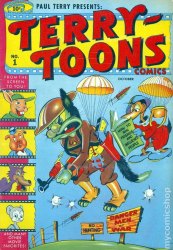 Like other cartoon character companies of the Golden Age Terry-Toons took their line up of animated characters from cartoon to panels on comic pages. The first Terry-Toons books were produced by Timely comics, the company that later became Marvel Comic, who published 63 issues of the classic Terry-Toons characters such as Mighty Mouse, the magpies Heckle and Jeckle, Dinky Duck, Gandy Goose, and Little Roquefort.
Read More
Looking to sell your comic books?
Browse our selection of key issues from Terry-Toon Comics below to get an instant estimate of their value.
We have been buying and selling for 20 years and have tons of experience working with sellers just like you!