Disclaimer:
When you click on link title "Check Live eBay Prices Here" on this site and make a purchase, this can result in this site earning a commission. Affiliate programs and affiliations include the eBay Partner Network. Check our Privacy Policy for more information.
Strange Fantasy
Ajax/Farrell // August 1952 - October-November 1954
Issue count: 14
The most eerie tales of suspense from the Golden Age of Comics! See what copies that are floating around are selling for by using our online price guide!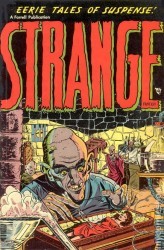 Strange Fantasy was a bi-monthly comic series published by Ajax-Farrell in the early 1950s. Comic book jungle girl Rulah (called Kolah in the book) makes an appearance in issue 3 and a bondage cover graces issue 13. Artists on the title include writer Bruce Hamilton and penciller, inker and cover artist Steve Ditko, who then became a Marvel artist and helped Stan Lee create Spider-Man and Dr. Strange.

The comic series was formerly Rocketman (with one issue) and picked up where Rocketman ceased publication. Strange Fantasy is then numbered 2-14 rather than 1–13. The title left newsstands in 1954, the victim of the Senate Subcommittee on Juvenile Delinquency. Copies in near mint condition command prices in the hundreds of dollars.
Read More
Looking to sell your comic books?
Browse our selection of key issues from Strange Fantasy below to get an instant estimate of their value.
We have been buying and selling for 20 years and have tons of experience working with sellers just like you!