Disclaimer:
When you click on link title "Check Live eBay Prices Here" on this site and make a purchase, this can result in this site earning a commission. Affiliate programs and affiliations include the eBay Partner Network. Check our Privacy Policy for more information.
Strange Adventures
DC Comics // August-September 1950 - October-November 1973
Issue count: 244
Top-flight sci-fi comic book from DC, this series gave us CAPT. COMET earlier on-but with issue #205, the radically original DEADMAN was introduced! Truly revolutionary, no other hero like him had ever been seen before! His appearances are valuable finds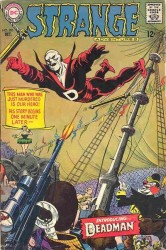 Strange Adventures, for most of it's long running tenure (1959-1973), was an above-average sci-fi/supernatural comic from DC, a company that seldom went in that direction.
Again, it was the inventive writing and top-of-the-line artwork that kept it around for so long.
Most notable, though, was late in the run when groundbreaking, award -winning artist Neil Adams brought us 11 issues featuring the truly innovative character DEADMAN!
This run was so well done and popular, that it has been re-presented many times in anthology form over the years!
Of course, these originals are treasured by collectors and dealers, but the earlier issues show significant value!
Bring 'em to Quality - we'll give you an honest appraisal of them!
Read More
Looking to sell your comic books?
Browse our selection of key issues from Strange Adventures below to get an instant estimate of their value.
We have been buying and selling for 20 years and have tons of experience working with sellers just like you!