Disclaimer:
When you click on link title "Check Live eBay Prices Here" on this site and make a purchase, this can result in this site earning a commission. Affiliate programs and affiliations include the eBay Partner Network. Check our Privacy Policy for more information.
Miss Fury
Timely // Winter 1942-43 - Winter 1945-46
Issue count: 8
Ultra-rare female-fronted title from Timely! Miss Fury only ran for 8 issues, so buyers will not come across these too often! See some selling prices by clicking on the title!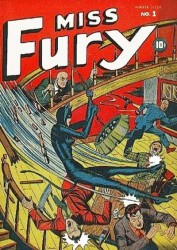 June Tarpe Mills - often going by the name Tarpe Mills, which was more gender-neutral to avoid bias that was prevalent in the 30' and 40's, was an anomaly; she was one of the only women artist/writers in the "all-boys-club" that was the comic book industry of the 1930s through the 1950s. And she was damned good - no qualifying needed!
Born In Brooklyn in 1918, her tastes gravitated toward the visual arts and fashion as a young woman. It's no surprise that she ended up studying at New York's prestigious design school The Pratt Institute. After honing her skills, she started working as a fashion illustrator.
Not finding that completely satisfying, she found herself fascinated with comic strips and sequential art, she had a lot to say as a writer also, and her art chops were great (word is she was a Milton Caniff devotee). So in 1938 she found her way in through the studios that were a pool of the premiere purveyors of comic art, providing stories for many companies on a more-or- less freelance basis: The pioneering LLoyd Jacquet Funnies Inc studio, and the prestigious Eisner/Iger studios.
Here, she rubbed shoulders with artists and writers whose legends would be made in the superhero genre of the "Golden-Age of Comics (1938 - 1954)." Mills had stories in the comic books starting in 1938 with Diana Deane In Hollywood, a series in Centaur Publishing's titles Funny Pages and Star Comics. It was around this time that she was getting stories (most of which she wrote AND drew) placed in the same publications as Jacquet Studio compadres Bill Everett, Carl Burgos and Paul Gustavson, all three of which Martin Goodman would poach in 1939 (and would go on to wide recognition as the creators of The Sub-Mariner, The Human Torch, and The Angel, respectively) for his new enterprise : Timely's Marvel Mystery Comics.

Tarpe would go on having steady comic book work, mostly for Centaur, for the next couple of years and would create, write and draw Cat Man (not the superhero, a different one), Daredevil Barry Finn (in Amazing Man Comics and Amazing Mystery Funnies), The Purple Zombie and Mann Of India (for Reg'lar Fellers Heroic Comics), and a soaper/detective series called Fantastic Feature Films (for Target Comics).
An amazingly skillful storyteller and artist, her defining moment came when in late 1941, a character that she had created was picked up as a weekly syndicated Sunday color newspaper strip : MISS FURY! Having a weekly strip was considered much more respectful and prestigious - it appeared in thousands of homes every week - than working in "those funny books," and it was much more lucrative financially also, with Bell Syndicate paying a higher rate per strip than she would get for a whole story in the books!
Miss Fury would be what Tarpe Mills was remembered for; it was a soap opera crossed with a bad-ass costumed crime-fighter, originally referred to as "The Black Fury" early on in the strip, her alter ego was wealthy socialite Marla Drake. Miss Fury had no innate superpowers, but gained increased strength and speed when she donned a special skintight catsuit when fighting crime.Drake's alter-ego combatted several regular villains, including mad scientist Diman Saraf and Nazi agents Erica Von Kampf and General Bruno. Drake was also involved in a love triangle with her former fiancé, Gary Hale, and Detective Dan Carey.
When Timely Comics found a good deal of their staff conscripted into the Armed forces in 1942, including Everett and Burgos, Martin Goodman found himself short on new material. An offer was made to Ms. Mills to have some of her color Sunday strips re-formatted for comic book form, and thus Timely Comics Miss Fury #1 hit the newstands in the Winter of 1942. Lasting 8 quarterly issues through Winter of '45/'46. Heck, it was the least Tarpe could do to help out her former co-workers. The material already existed, and each giant issue of the book offered 50 - 57 pages of prime Miss Fury action and romance.
June Tarpe Mills' Miss Fury would continue as a syndicated Sunday strip until 1953, but these * Timely/Marvel books are treasured by collectors, and are very valuable and rare! Be on the lookout for Miss Fury #1 through #8...
Read More
Looking to sell your comic books?
Browse our selection of key issues from Miss Fury below to get an instant estimate of their value.
We have been buying and selling for 20 years and have tons of experience working with sellers just like you!