Disclaimer:
When you click on link title "Check Live eBay Prices Here" on this site and make a purchase, this can result in this site earning a commission. Affiliate programs and affiliations include the eBay Partner Network. Check our Privacy Policy for more information.
Law Against Crime
None // April 1948 - August 1948
Issue count: 3
Pre Comic Code Crime Stories!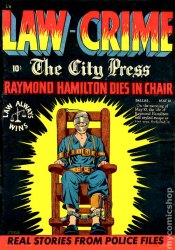 Published from April 1948 to August 1948 by Essankay Publications Co this title sticks out as being pre comic code from its cover alone. The sight of a criminal being executed in an electric chair on the cover of the first ten cent issue is distinct to say the least. Each cover boasted that the stories inside were based in truth on real police cases and to a degree that is actually true. The cover of issue #3 has "The Lipstick Slayer" in bold red letters across it. A few years before there was a real life murderer known as, "The Lipstick Killer".
Read More
Looking to sell your comic books?
Browse our selection of key issues from Law Against Crime below to get an instant estimate of their value.
We have been buying and selling for 20 years and have tons of experience working with sellers just like you!