Disclaimer:
When you click on link title "Check Live eBay Prices Here" on this site and make a purchase, this can result in this site earning a commission. Affiliate programs and affiliations include the eBay Partner Network. Check our Privacy Policy for more information.
Justice League Of America #1
Published October-November 1960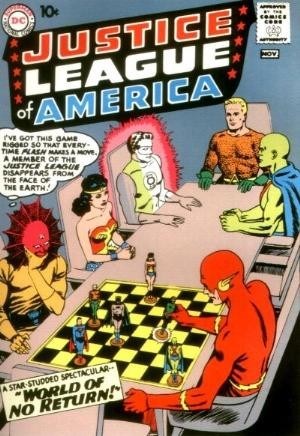 What's Justice League Of America #1 worth in 2023?
Justice League of America #1 was published in 1960. The most valuable copy ever sold cost a mind-crushing $215,000, graded at NM 9.6, in 2018. A FN 6.0 FNcopy will run you about $1,500 today, and a GD 2.0 copy has fallen from $591 in 2018 to $405 today.
Why is this comic book valuable?
Justice League of America #1 is incredibly valued by collectors because it was the first comic book to bring together this greatest-hits of DC superheroes, including Wonder Woman, Batman, and Superman.
Price Guide Report
| GD 2.0 | VG 4.0 | FN 6.0 | VF 8.0 | NM 9.4 | RECORD SALE! |
| --- | --- | --- | --- | --- | --- |
| $525 | $975 | $2,075 | $13,000 | $40,000 | $215,100 |