Disclaimer:
When you click on link title "Check Live eBay Prices Here" on this site and make a purchase, this can result in this site earning a commission. Affiliate programs and affiliations include the eBay Partner Network. Check our Privacy Policy for more information.
Journey Into Mystery #83
Published August 1962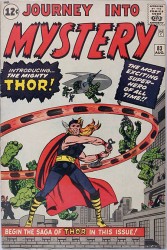 Journey Into Mystery Volume 1 issue 83 was the beginning of Thor's adventures. Published in August 1962, the Editor-in-chief was Stan Lee. The cover art was done by Jack Kirby, Joe Sinnott, Stan Goldberg, and Artie Simek.
Interesting Facts
With this issue of the comic, the saga of Thor begins. This issue has 4 sections titled "Thor the Mighty and the Stone Men from Saturn!", "Discovery", "The Perfect Crime!" and "When the Jungle Sleeps".
The dynamic cover art shows Thor swinging his famous hammer to attack the Stone Men. The Stone Men seem to land from a strange-looking spaceship, and they are armed.
Story Synopsis
"Thor the Mighty and the Stone Men from Saturn!" has three parts. The first part shows Dr. Donald Blake transforming into Thor, the mythical Norse God of Thunder.
The second part, "The Power of Thor," is the revelation of the powers he possesses. Meanwhile, the Stone Men begin destruction on Earth.
The third part, "Thor the Mighty Strikes Back," is where Thor defeats the aliens and sends them back to their ships. He once again becomes Blake, having completed the mission.
The section, "Discovery," features a scrawny man who gets immense strength by eating a candy bar. But he realizes that he already possesses more extraordinary powers.
The section, "The Perfect Crime," begins with the scene where a crook tries to rob a man, trying to push him off a cliff. The crook is shocked to find that the man is, in fact, a flying man from Mercury.
The final section of the comic is "When the Jungle Sleeps." It is about a lion that temporarily gains human-like comprehension abilities because of an atomic weapon test. It plots to avenge humans for the damage caused but soon realizes that the ability was only temporary.
Price Guide Report
| GD 2.0 | VG 4.0 | FN 6.0 | VF 8.0 | NM 9.4 | RECORD SALE! |
| --- | --- | --- | --- | --- | --- |
| $3,575 | $6,225 | $9,900 | $25,450 | $144,000 | $432,000 |