Disclaimer:
When you click on link title "Check Live eBay Prices Here" on this site and make a purchase, this can result in this site earning a commission. Affiliate programs and affiliations include the eBay Partner Network. Check our Privacy Policy for more information.
John Byrne's Next Men
DC Comics // February 1992 - December 1994
Issue count: 31
A group of people must discover their purpose and stay alive. Follow their adventures! See what copies that are floating around are selling for by using our online price guide!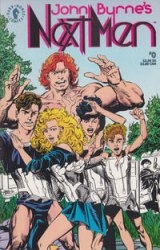 John Byrne's Next Men was first released in 1992 as a limited series written, penciled and inked by John Byrne (Superman, X-Men). The story followed the adventures of the Next Men, a group first introduced in Dark Horse Presents, that wake up in a foreign land with their memories almost completely wiped out.

The series had a pretty good response from readers and Byrne was able to release the full story, spanning 31 issues and culminating in 1994.
Read More
Looking to sell your comic books?
Browse our selection of key issues from John Byrne's Next Men below to get an instant estimate of their value.
We have been buying and selling for 20 years and have tons of experience working with sellers just like you!