Disclaimer:
When you click on link title "Check Live eBay Prices Here" on this site and make a purchase, this can result in this site earning a commission. Affiliate programs and affiliations include the eBay Partner Network. Check our Privacy Policy for more information.
Jo-Jo Comics
Fox // [Spring] 1946 - July 1949
Issue count: 29
Fox's Jo-Jo Comics started life as a "funny animal" book, but starting with issue #7, it be came a jungle adventure book. Stellar art by heavy hitters Matt Baker and Jack Kamen make this book very attractive to collectors! See our price guide for details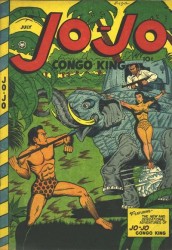 With its roots firmly planted in the groundwork laid by Edgar Rice Burroughs and his encaptivating series of novels featuring his greatest creation, Tarzan, it was a relatively short period of time from the Man Of The Apes literary debut in 1912 to his adventures being chronicled in daily and Sunday syndicated comic strips beginning in 1929, with art chores by the very capable hands of master illustrator and future Prince Valiant creator Hal Foster.

There would be no looking back; Tarzan, and in fact the IDEA of Tarzan would remain popular up to modern times. There was just something exotic and alluring about jungle tales of self-determination that would continue captivating the imaginations of readers spanning many generations.

When the great superhero books of comic's Golden Age stopped selling at the end of the 1940's, the field was left wide open for different types of tales to suddenly gain in readership. Chief among those were the Jungle Comics.

Tarzan knock-offs were starting to appear from almost every publisher. But the most captivating element of the jungle genre for newer readers was the advent of the "Jungle Queen" or the "Jungle Princess." Enhanced by the slackening of restrictions on just how much of a woman's anatomy one was allowed to show, these women of various jungles were almost always scantily clad babes wearing not much more than some kind of two-piece bikinis, that were invariably constructed out of wild animal skins.

Fox Features quickly got in on the action with All-Top Comics, featuring Rulah, Jungle Goddess, who went about her business wearing practically nothing, and was deftly delineated by two comic book artists that had truly mastered the female form : Jack Kamen and Matt Baker.

In the late 40's both Kamen and Baker worked out of the famous freelance shop of Jerry Iger. Known at that time as the S.M.Iger Shop, it featured a collective of artists for whom editor Victor Fox would rely on heavily for his book's content. The Iger artists were held to a very exacting standard, to the point where poor record keeping has had students of comic book art speculating on exactly who did what on any particular jobs - there are bylines given on some stories confirming the correct artist, but there are disproportionately more which lead us to keep wondering…

Jungle King-type character Jo-Jo was always a prominent co-feature in All-Top, so Fox mandated that he get his own title almost concurrently with All-Top's format change - y'see, both All-Top and Jo-Jo were originally "funny-animal" humor comics that both abruptly changed formats to accommodate our various loincloth wearing fearless jungle friends.

Whereas All-Top had Rulah as it's primary flesh-revealing moneymaker, Jo-Jo's sex appeal was more with his female companions - and there was always at least one. It was mandatory.

Jo-Jo ran 23 issues as a Jungle comic book until July of 1949, and among the confirmed jobs done by Jack Kamen and Matt Baker, are many that remain nebulously credited to "The Iger Shop." Interestingly, though, there are some stories credited to A.C. Hollingsworth, who, besides Baker, was one of the only other African-American comic book artists getting steady work at the time. Hollingsworth worked out of the Iger Shop, and was somewhat mentored by Matt Baker, by all accounts.

Although Jungle comics will always hold a certain appeal, there seemed to be a lull in demand for them at the end of the 40's, with many titles being cancelled. All-Top and Jo-Jo were among the casualties, but there is no short demand in collectability for these high-quality late Golden-Age books.
Read More
Looking to sell your comic books?
Browse our selection of key issues from Jo-Jo Comics below to get an instant estimate of their value.
We have been buying and selling for 20 years and have tons of experience working with sellers just like you!