Disclaimer:
When you click on link title "Check Live eBay Prices Here" on this site and make a purchase, this can result in this site earning a commission. Affiliate programs and affiliations include the eBay Partner Network. Check our Privacy Policy for more information.
Haunted Thrills
Farrell // June 1952 - November-December 1954
Issue count: 18
So many small publishers found themselves in hot water after the crackdown on gruesome and explicit content in the early-mid 50's; and Farrell was no exception. They did give us Haunted Thrills, however! More obscure, highly valued pre-code gore!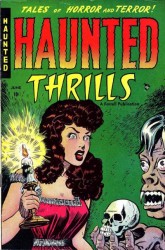 Robert Farrell had been kicking around for a while. In the 30's, he cut his teeth writing the popular syndicated newspaper strip Scorchy Smith. It was around this time that he befriended Will Eisner and Jerry Iger, who had just opened their freelance comic book studio. He honed his craft writing stories for them, which subsequently were sold to various outlets.
In 1940, after working as an editor for Fox, he decided to establish his own publishing house, Farrell Publications, and started putting out comics in all sorts of genres under different imprints. Ajax is probably the imprint that is most remembered, releasing hero books like the Black Cobra and, in somewhat of a coup, obtaining the rights to Phantom Lady - a character made very popular at Fox, with provocative art provided by Matt Baker, an Eisner/Iger alumnus.
Disappointingly, Ajax/Farrell's four issue run presented a more sanitized version of Phantom Lady, and promptly ceased production. But we are getting ahead of ourselves…
The area in which Farrell really cooked was the horror genre, and in the late 40's - early 50's produced the high-quality, much beloved titles Strange Fantasy, and Fantastic Fears, and the flagship title Haunted thrills.
The stories and art for these titles were for the most part supplied by the S.M. Iger Shop (the name which Jerry Iger was operating under after the departure of Will Eisner). Unfortunately, although very top-notch, well done material, the Iger Shop material was notorious for not including any credits - leaving readers and scholars to study and speculate as to who actually wrote and drew particular stories.
The only artists with confirmed credits on this entire run are Joe Doolin, Carl Burgos, and Robert Webb.
Many of the covers of the Ajax horror books are particularly revolting, with an editorial leaning toward the liberal use of skeletons; long dead husbands returning to their wives in flesh-dripping skeletal form, imprisoned skeletons begging a distressed woman to help them return to their graves, a top-hat wearing skeleton in hell playing a deadly crap-game, witches boiling the heads of recently decapitated humans in a big cauldron (no skeletons, but still gross), a terrified beautiful blonde losing a chess match to a skeleton (the stakes, presumably being her mortal soul!), a skeleton chauffeur driving a terrified couple to certain death. All told, Haunted Thrills featured skeletons on the covers on 10 of its 18 issues (additionally, 5 covers out of the 9 issues of Fantastic Fears featured images of skeletons).
All of Farrell's horror titles fell victim to The Senate Subcommittee On Juvenile Delinquency's crackdown on graphic content, and ceased publication months before the Comics Code Authority "rules" went into effect in the spring of 1955. Haunted Thrills, taking pre-emptive action, ceased production in November of 1954.
Farrell's "pre-code" horror titles are revered by aficionados of that genre, and trade hands on the collectors marketplace for big money!
Read More
Looking to sell your comic books?
Browse our selection of key issues from Haunted Thrills below to get an instant estimate of their value.
We have been buying and selling for 20 years and have tons of experience working with sellers just like you!