Disclaimer:
When you click on link title "Check Live eBay Prices Here" on this site and make a purchase, this can result in this site earning a commission. Affiliate programs and affiliations include the eBay Partner Network. Check our Privacy Policy for more information.
Hangman
MLJ // Spring 1942 - Fall 1943
Issue count: 7
Find out about the mysterious Hangman in this limited comic book series! See what copies of this title are worth by using our online price guide.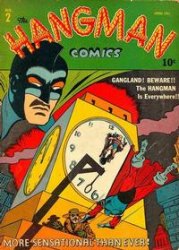 Hangman was a comic series released in March 1942. Archie Publications started with a series named Special Comics which featured a story with Hangman as the main character. The story was a success, so for issue 2 of Special Comics, they decided to drop the name and just call it Hangman (the numbering continued, so the first issue released was Hangman #2).

The book featured superhero tales with Hangman appearing in most of them. And it was a good first attempt by the publisher to enter the superhero genre, but after a year it became clear that Hangman wasn't as relevant as other DC or Marvel superheroes and they decided to shift the center of the story to Black Hood, another superhero from the pages of Hangman. After issue #8, the series was rebranded again and the following release was Black Hood #9.
Read More
Looking to sell your comic books?
Browse our selection of key issues from Hangman below to get an instant estimate of their value.
We have been buying and selling for 20 years and have tons of experience working with sellers just like you!