Disclaimer:
When you click on link title "Check Live eBay Prices Here" on this site and make a purchase, this can result in this site earning a commission. Affiliate programs and affiliations include the eBay Partner Network. Check our Privacy Policy for more information.
Giant-Size X-Men
Marvel // May 1975
Issue count: 2
The introduction of the "new" X-MEN was a game changer for team books! Giant-Size X-Men #1 is one of the most in-demand comics on the market, and one of the most valuable books of the 70's! See what it has been selling for by following the link!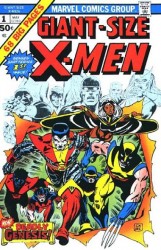 The X-Men were always a great concept; genetically mutated humans that had extra-abilities, but needed a guiding force to steer them morally so they could do good, learn how to control their powers, and to help them deal with their own identities with being "different." Simultaneously, there also existed "evil" mutants, whose motives were not so moral... The Original team, and comic book, ran for about 7 years, but despite attempts to revitalize the book with new writers and artists - which were critically acclaimed, but unfortunately not very good sellers - the book groud to a halt in the late 60's.
But this would not be the end of the story - in fact, far from it!
With Giant-Size X-Men #1 from 1975, writer Len Wein and artist Dave Cockrum introduced a new team that starred in a revival of The X-Men (continuing the numbering from the older series, resuming with issue #94).
This new team replaced the previous members with the exception of Cyclops, who remained. This team differed greatly from the original. Unlike in the early issues of the original series, the new team was not made up of teenagers. Each new member was from a different country with varying cultural and philosophical beliefs, and all were already well-versed in using their mutant powers, several being experienced in combat. Another major difference is that unlike the original X-Men, The "All-New, All-Different" X-Men team was composed of a Soviet/Russian atheist, a German blue demon-like creature, a female African Kenyan-American woman, an Irish Catholic, an Apache Native American, a Japanese male and a Canadian agent as its members.
This re-boot, starring Cyclops, Colossus, Nightcrawler, Storm, Banshee, Thunderbird, Sunfire, and Wolverine proved to be one of the biggest phenomenons to happen in comics (and cinema, as it turns out!) - prompting almost too many offshoots to count - up until present day.
But Giant-Size X-men #1 is the book that started it all, making it one of the most highly sought-after comics in history, and boasting record-breaking selling prices on the collectors market!
Check out how much it has been going for using Quality Comix's online price guide!
Read More
Looking to sell your comic books?
Browse our selection of key issues from Giant-Size X-Men below to get an instant estimate of their value.
We have been buying and selling for 20 years and have tons of experience working with sellers just like you!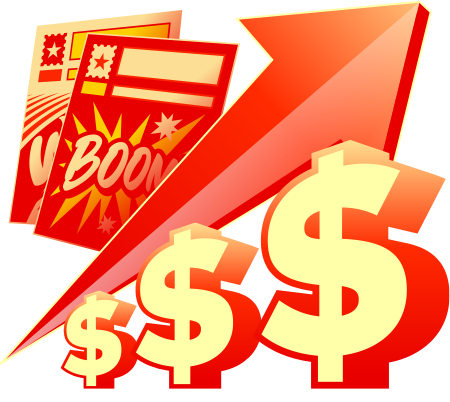 Issue #1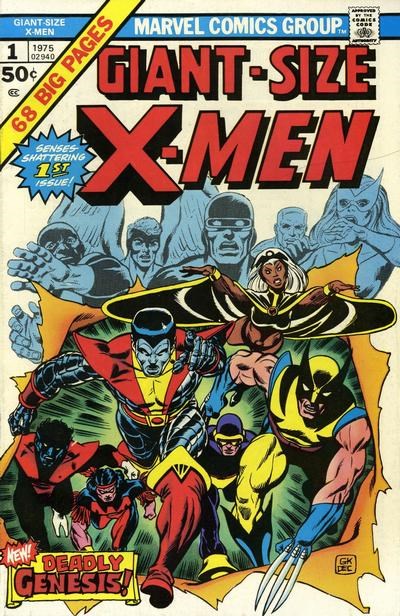 What's Giant-Size X-Men #1 worth in 2023?
A NM/MT 9.8 set a record for the book with a recent sell price of $13,300! As an investment collectible that is still a reasonable price for such a top tier book in the current market. FN 6.0 books will bring in the range of $1,500 against about $350 in 2009. Solid GD 2.0 are still well under $1,000 coming in around $600 versus just $100 in 2009. A solid performer with A LOT of upside in the wake of the news that MCU powerhouse Sony has acquired the rights from lackluster performer Fox Entertainment. The next big move in the value of this issue could be sooner than later and frankly that leaves no time to waste for the educated buyer!
Why is this comic book valuable?
In the 1980's the X-men changed comics. And in 1975 Giant Sized X-men #1 changed the X-men. The previous team was ok but never the star of the Marvel line-up. It was a Lee/Kirby creation meant to round out the line-up while Marvel's faithful waited for FF and Spidey to come around again each month. Boarding school students fighting the mundane. With Giant Size #1 we would see that team removed and the "All new all different" team introducing brand new characters Storm, Colossus, Thunderbird, Nightcrwaler as well as relative newcomer Wolverine who had himself only debuted a few months before in Hulk #181.

It wouldn't be long before this team, although well received, would hit new heights with the addition of master wordsmith, Chris Claremont. Marvel would couple with Claremont up-and-comer John Byrne and the title would never look back.

The popularity of the current X-men books might come and go but this is the ultimate X-men issue for modern X-men fans and as such will be in no danger of losing its luster!
Price Guide Report
| GD 2.0 | VG 4.0 | FN 6.0 | VF 8.0 | NM 9.4 | RECORD SALE! |
| --- | --- | --- | --- | --- | --- |
| $550 | $825 | $1,175 | $2,025 | $4,300 | $90,000 |