Disclaimer:
When you click on link title "Check Live eBay Prices Here" on this site and make a purchase, this can result in this site earning a commission. Affiliate programs and affiliations include the eBay Partner Network. Check our Privacy Policy for more information.
Ghost Rider
Meet the first spirit of vengeance! See what different graded copies are selling for by using our online price guide!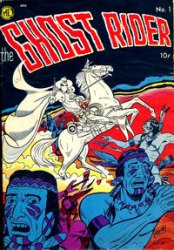 Ghost Rider is usually remembered as Marvel's hero: a man who made a deal with the devil and now is forced to live with his curse, while trying to keep his soul from the devil.

However, the first comic under this name was released in 1950 (Marvel's first volume of their Ghost Rider was released in 1967). The story followed a marshal who used special effects to make outlaws think he's an otherworldly avenger, usually with successful results.

The series was released for over four years, spanning 14 issues.
Read More
Looking to sell your comic books?
Browse our selection of key issues from Ghost Rider below to get an instant estimate of their value.
We have been buying and selling for 20 years and have tons of experience working with sellers just like you!