Disclaimer:
When you click on link title "Check Live eBay Prices Here" on this site and make a purchase, this can result in this site earning a commission. Affiliate programs and affiliations include the eBay Partner Network. Check our Privacy Policy for more information.
Future Comics
David McKay // June 1940 - September 1940
Issue count: 4
A fleeting but unmissable comic from the Golden Age! See what copies that are floating around are selling for by using our online price guide!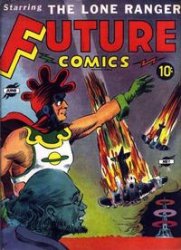 Future Comics is actually a reprint of an Italian comic. In fact, it was the first non-American comic to be released in the U.S. The story follows Rebo, a Saturnian overlord wearing what appears to be a chicken-crest hat, as he declares war against the Earth, and the Air Force is unable to stop him. The issues also featured some reprints of the Lone Ranger and Phantom comics. The story was good, but short, as only four issues were released in 1940. Today, those issues belong to collectors and there aren't many selling at auction.
Read More
Looking to sell your comic books?
Browse our selection of key issues from Future Comics below to get an instant estimate of their value.
We have been buying and selling for 20 years and have tons of experience working with sellers just like you!