Disclaimer:
When you click on link title "Check Live eBay Prices Here" on this site and make a purchase, this can result in this site earning a commission. Affiliate programs and affiliations include the eBay Partner Network. Check our Privacy Policy for more information.
Frontline Combat
EC // July-August 1951 - January 1954
Issue count: 15
Stories from soldiers and other fighting men! See what copies that are floating around are selling for by using our online price guide!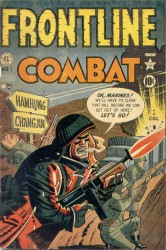 In addition to contemporary stories about the Korean War and World War II, Two-Fisted Tales and Frontline Combat contained a number of stories taking place in historical settings, including the Civil War, the Revolutionary War and ancient Rome. The comic depicted the horrors of war realistically and in great detail, exposing what Kurtzman saw as the truth about war without glamorizing or idealizing it.
Kurtzman's editing approach to Two Fisted Tales and Frontline Combat was a stark contrast to EC editor Al Feldstein's style. Whereas Feldstein allowed his artists to draw the story in any manner they desired, Kurtzman developed detailed layouts for each story and required his artists to follow them exactly. Kurtzman's writing tended to have a lot less text in them than Feldstein's, which enabled the two war titles to be hand-lettered rather than machine-lettered like the remainder of EC's titles. Kurtzman was also dedicated to making the stories as historically accurate as possible and, along with assistant DeFuccio, put a lot of research into each story. As a result, where Feldstein took generally about a week to complete each issue he edited, Kurtzman took approximately a month.
Eventually, publication was discontinued following a decline in sales attributed to the end of the Korean War.
Read More
Looking to sell your comic books?
Browse our selection of key issues from Frontline Combat below to get an instant estimate of their value.
We have been buying and selling for 20 years and have tons of experience working with sellers just like you!