Disclaimer:
When you click on link title "Check Live eBay Prices Here" on this site and make a purchase, this can result in this site earning a commission. Affiliate programs and affiliations include the eBay Partner Network. Check our Privacy Policy for more information.
Comic Cavalcade
DC Comics // Winter 1942-1943 - June-July 1954
Issue count: 63
Another jumbo -sized quarterly offered by DC beginning in 1942! WONDER WOMAN, THE FLASH, & THE GREEN LANTERN were featured in every issue of this scarce comic book! Very hard to find, and fetching top dollar!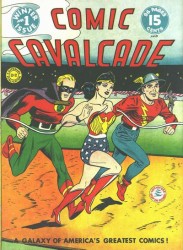 Comic Cavalcade was another anthology title from National/DC that premiered in 1942. It's main attraction was that it featured a Wonder Woman, Flash and Green Lantern story in each issue - but since this was a quarterly at a whopping 100 pages, they padded it out by trying to offer something for everybody.
CC included various humor strips, adventure and detective stories, as well as some funny animal features.
Occasionally, a feature with other superheroes would show up, notably Wildcat, The Atom, Black Canary, and Sargon the Sorcerer.
This format lasted 29 issues until fall of 1948, when the book changed into a humor and funny animal book exclusively. It soldiered-on like this until 1952, when it was cancelled.
This book is highly coveted if only for the fact that many of the hero stories have not been reprinted in any other book or anthology (excepting the Wonder Woman stories, which appeared in her Golden-Age Archive series).
Read More
Looking to sell your comic books?
Browse our selection of key issues from Comic Cavalcade below to get an instant estimate of their value.
We have been buying and selling for 20 years and have tons of experience working with sellers just like you!