Disclaimer:
When you click on link title "Check Live eBay Prices Here" on this site and make a purchase, this can result in this site earning a commission. Affiliate programs and affiliations include the eBay Partner Network. Check our Privacy Policy for more information.
Captain Aero
Holyoke // December 1941 - August 1946
Issue count: 9
Join the Captain on his adventures to defeat foreign foes! Use our online price guide to see what copies that are floating around are selling for!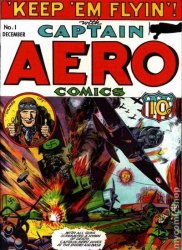 Captain Aero was a comic series released in 1941, following the stories of Captain Aero and other superheroes of the first generation. Captain Aero is actually the hero to coin the phrase "Keep 'em flying!" The series is divided into four volumes, one released after the other. However, there's a bit of confusion on the numbering, since after issue #17 there's a direct skip to issue #21. The series was finally canceled in 1946 after the war ended when the demand for comics with American heroes fighting Japanese or German forces had decreased, and people were demanding new stories with new genres.
Read More
Looking to sell your comic books?
Browse our selection of key issues from Captain Aero below to get an instant estimate of their value.
We have been buying and selling for 20 years and have tons of experience working with sellers just like you!