Disclaimer:
When you click on link title "Check Live eBay Prices Here" on this site and make a purchase, this can result in this site earning a commission. Affiliate programs and affiliations include the eBay Partner Network. Check our Privacy Policy for more information.
Bobby Benson's B-Bar-B Riders
Tales of young cowboy adventures based on the popular radio show at the time! See what copies that are floating around are selling for by using our online price guide!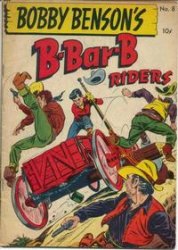 Bobby Benson's B-Bar-B Riders started out as a popular radio show that ran from 1949 to 1955. But after only one year, the demand was huge and a comic with the same name was released, featuring the same characters in printed format. The stories followed a group of young cowboys and their adventures. The comic had its success but it never matched the popularity of the radio show, which is why, in 1953, the comic was cancelled to completely focus on the radio show.
Read More
Looking to sell your comic books?
Browse our selection of key issues from Bobby Benson's B-Bar-B Riders below to get an instant estimate of their value.
We have been buying and selling for 20 years and have tons of experience working with sellers just like you!