Disclaimer:
When you click on link title "Check Live eBay Prices Here" on this site and make a purchase, this can result in this site earning a commission. Affiliate programs and affiliations include the eBay Partner Network. Check our Privacy Policy for more information.
Amazing Spider-Man #1
Published March 1963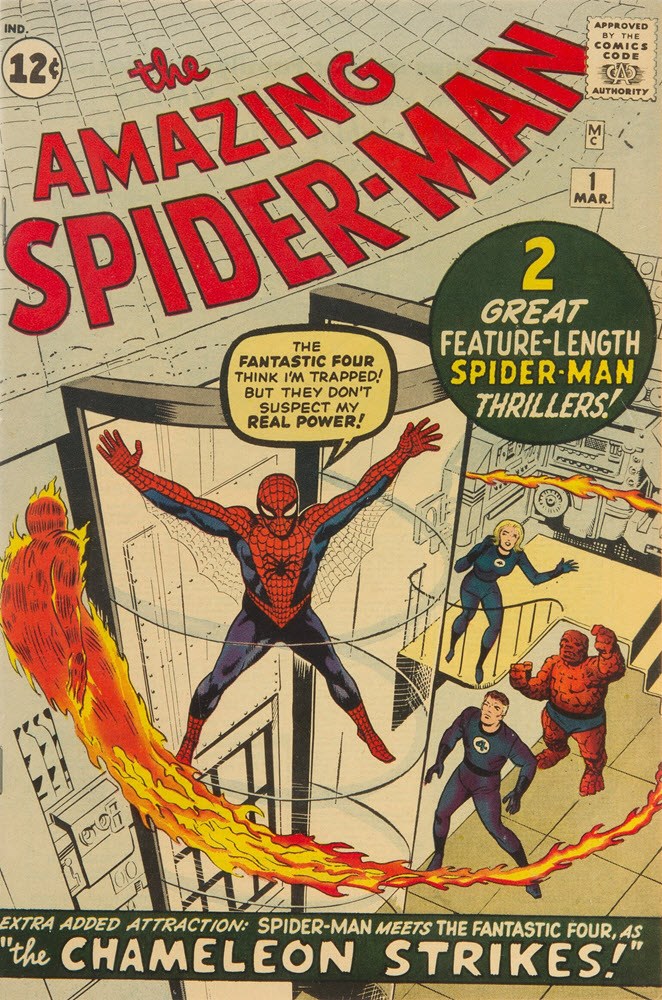 What's Amazing Spider-Man #1 worth in 2023?
The value of Amazing Spider-Man #1 in Mint condition has tripled in value in the last 10 years. Currently, Amazing Spider-Man #1 holds the record of the most expensive book that has ever sold in the comic book market. Recently, a 9.6 appeared for sale in the market and it was sold for an enormous $336,000 in November 2022. While back in 2005 - 2007, copies were only going for $100,000. Since most collectors can't afford NM+ copies, let's look at mid grade (FN 6.0) and low grade (GD 2.0) copies instead. You could have purchased in FN 6.0 back in 2007 for a measly $4,000. That same copy would now sell for $20,000! A very nice 400+% increase in value in a dozen years. In GD 2.0, it's much the same story. In 2007, you could have picked up a low grade copy for $1,000. Nowadays, the entry fee is $6,000 to acquire a readable, complete copy. For big key issues like Amazing Spider-Man #1, we recommend you pick up a low grade copy that looks nice and hold onto it for the long haul.
Why is this comic book valuable?
Following the huge success of Amazing Fantasy #15, Stan Lee and Steve Ditko began a new ongoing series named "The Amazing Spider-Man" in 1963. Amazing Spider-Man #1 introduces J. Jonah Jameson and Spider-Man's first villain - Chameleon. To add more gravitas to the issue, Lee and Ditko brought over the Fantastic Four to guest star. #1 issues always hold their value for popular characters and although this wasn't Spider-Man's first appearance, it did let the world know that the Amazing Spider-Man was here to stay!
Price Guide Report
| GD 2.0 | VG 4.0 | FN 6.0 | VF 8.0 | NM 9.4 | RECORD SALE! |
| --- | --- | --- | --- | --- | --- |
| $7,900 | $15,000 | $27,000 | $40,000 | $241,200 | $336,000 |