Disclaimer:
When you click on link title "Check Live eBay Prices Here" on this site and make a purchase, this can result in this site earning a commission. Affiliate programs and affiliations include the eBay Partner Network. Check our Privacy Policy for more information.
Amazing Mysteries
Marvel // May 1949 - January 1950
Issue count: 4
The last issue of the true crime stories, the Amazing Mysteries series!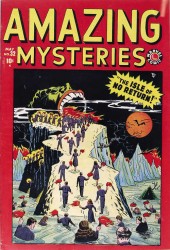 Atlas grew out of Timely Comics, the publisher that first brought The Human Torch, Sub-Mariner and Captain America in the 1940's. But by 1950, the superhero stories were old-fashioned and TV and books were competing for the audience's attention.
The villains featured in The Human Torch, Captain America and Sub-Mariner stories were all too similar and the comics broke no ground, leading to the cancellation of Captain America and the rebranding of Sub-Mariner Comics to Amazing Mysteries, where they started experimenting with different genres such as western, humor or crime/horror.
However, Amazing Mysteries wasn't that famous either and it only ran for 4 issues before being cancelled.
Follow Quality Comix's links in the online price guide to see the prices that some of these issues are currently fetching on the collectors market!
Read More
Looking to sell your comic books?
Browse our selection of key issues from Amazing Mysteries below to get an instant estimate of their value.
We have been buying and selling for 20 years and have tons of experience working with sellers just like you!