All-American Comics #16
Published July 1940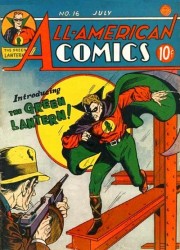 What's All-American Comics #16 worth in 2021?
The value of All-American Comics #16 in Mint condition is unknown but suspected to be over $1,000,000 due to an offer for $1,000,000 made for a CGC NM 9.4 copy in recent years. A CGC FN+ 6.5 sold for $215,000 in 2018, which further justifies the $1 million offer on the CGC 9.4. Green Lantern is a very popular character and this issue is fairly scarce with an estimated 100 copies or less in existence. 10 years ago, a low grade copy in GD 2.0 could be purchased for $10,000. Now, that same copy in the same grade would cost nearly 4X that price at $35,000. If an unrestored copy is offered up for sale, and you can afford it, it's worth the investment to pick one up.
Why is this comic book valuable?
All-American Comics #16 showcases the very first appearance of the Golden Age Green Lantern - Alan Scott in 1940. Martin Nodell created and modeled Green Lantern from Greek Mythological gods.
Price Guide Report
| GD 2.0 | VG 4.0 | FN 6.0 | VF 8.0 | NM 9.4 | RECORD SALE! |
| --- | --- | --- | --- | --- | --- |
| $30,000 | $78,000 | $200,000 | $500,000 | $1,200,000 | $300,000 |