Sell Your Old Comic Books And Get Paid Lightning Quick!
If you have a comic book collection (either your own or inherited) and you would like to earn money by selling your collection, then this page is going to tell you what you need to know.
But first, if you want the fastest way to sell your comic collection and get a FREE Evaluation, a GREAT price, AND with FREE shipping, then follow the steps below!
Discover the Value of Your Comic Collection No Strings Attached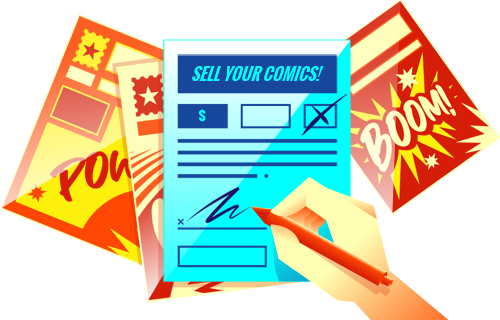 Get Started Right Away
Step 1: Submit your list of comics along with some photos through our online form and our experienced team of grading staff will get to work on your valuation.
Step 2: When our team completes the valuation, we'll contact you back with the offer.
Step 3: After you agree, we will provide an iron clad agreement to purchase and a free shipping label. Once the collection has been processed your funds are then either directly deposited into your account within 24 hours!
Learn More
OK, with that out of the way, the rest of this page is dedicated to teaching you about the various ways you can sell your comics.
But, if you want to learn EVERYTHING about selling your comic book collection, from grading companies to selling your comics at an auction house, then click the button below to access our 3000 plus word FREE E-book.
Still here?
Great. Let's dive in.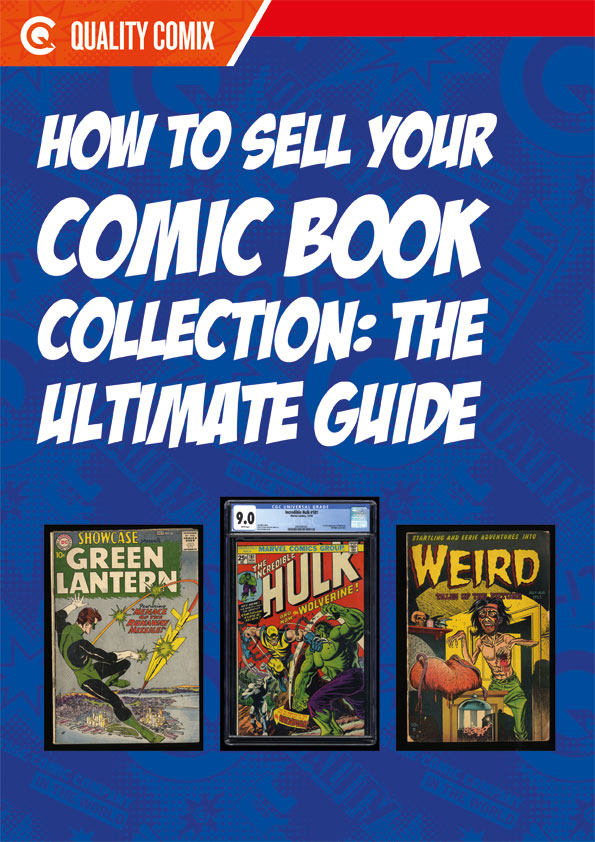 How To Sell Your Comic Book Collection In Record Time (But Still Get A Great Price)
By far, the fastest way to sell your comic book collection is to use a broker like ourselves (there are other ways, which we will explain shortly).
And to do this, you are going to need to make a list of all of your comic books.
We also recommend taking photos of the covers. This can help a broker to provide a price based on how well the comic has aged or been handled over the years.
But the basic process of selling your comic collection goes a little like this:
Organize your collection. You can do this by making a list, but it might be easy to sort by title or era.
Choose a method to get a ballpark price, be that an eBay search or an online pricing service like ours.
Upload the list of your comics.
Await for the best price.
Either send your comics to the buyer and await payment (or use a service like ours, which pays via ACH/Direct Deposit with free shipping and insurance).
Spend your cash on whatever you desire.
Now, the above is a super streamlined version of how to sell your comic collection.
Sadly, there are plenty of pitfalls, things that can go wrong and ways you can get ripped off.
Frankly speaking, every time I hear of a comic book collector who has been stung by some kind of scam, it breaks my heart.
So, here are just a few things to be wary of when selling your comics.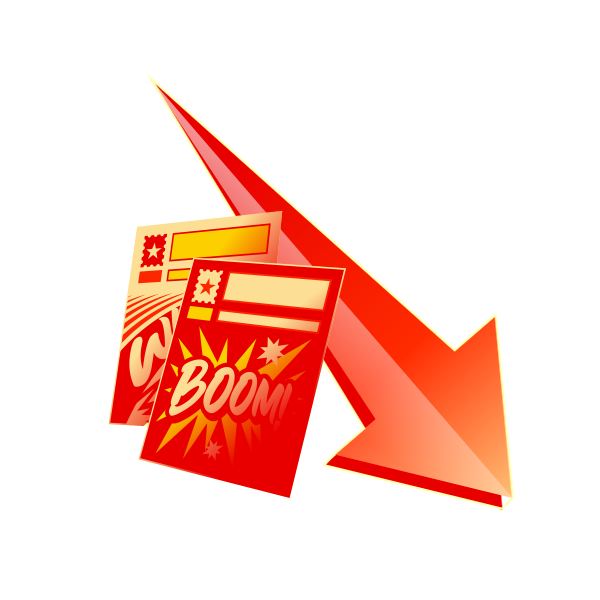 The Traps That Shady Comic Book Buyers Lay For Inexperienced Sellers
Yes, there are some very shady collectors out there.
It hurts me to say this, but it's true. I know this because, over the years, I have met a few and also been stung myself.
I learned the hard way that not everyone plays fair.
This was one of the fundamental reasons that I built Quality Comix.
I wanted to create a safe, fair and quality online comic book store so people never had to feel at risk when they were selling their collection.
But if you aren't going to sell with us, let me tell you a few pitfalls that you must avoid when selling by yourself.
Make Sure The Payment Process Is Clear So You Don't Get Ripped Off
They were once your prized possessions. Comics you spent years collecting and reading.
But, not all people offering to buy your comics are legit.
Some people (especially some private buyers) will promise to pay you, then up and leave with your collection once they receive it.
This leaves you with the task of getting lawyers involved or going to the police. All of which takes money and time.
So, look at the payment process and make sure there is some kind of contract in place!
When we built our payment process, we had the collector in our minds, for this reason, BEFORE YOU SHIP us your collection we provide a purchase agreement outlining our obligation to you!
When your evaluation is complete we PAY with ACH/Direct Deposit!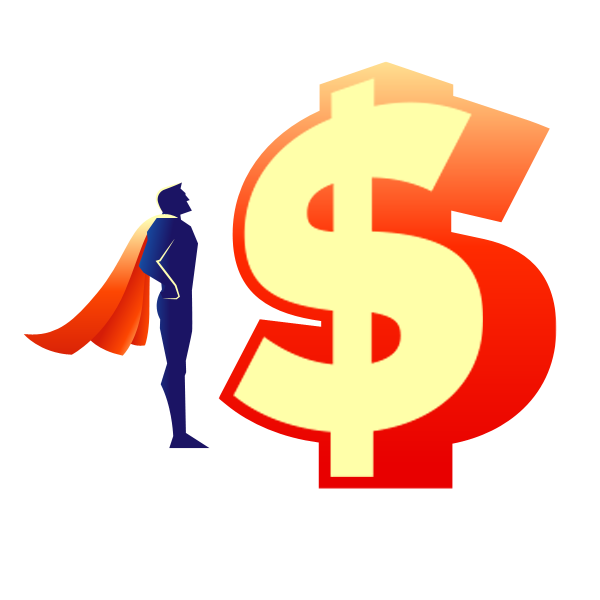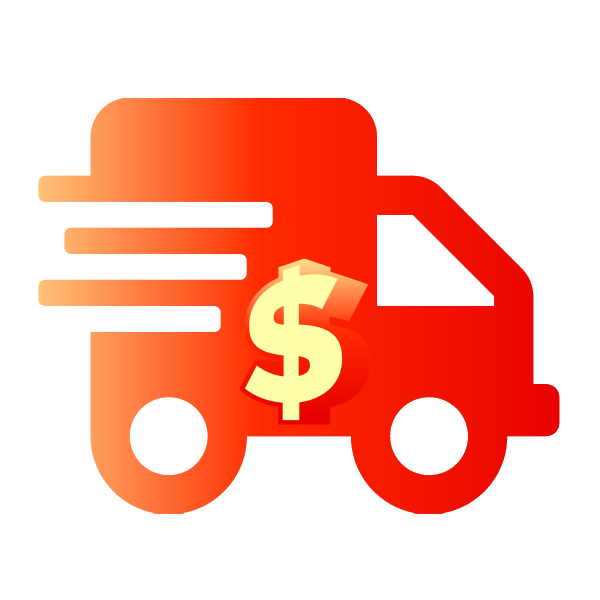 Use Secure Tracked Shipping To Ensure Your Comics Never 'Go Missing'
One of the worst horror stories we have heard about is people sending their comics and then the person on the other side saying 'we never got them'.
Suddenly you get the buyer becoming irate "stop wasting my time, just send the comics" they say. Before you know it, they aren't answering you.
It's true. This might be because they got lost in shipping, or it might be a lack of honesty. Either way, you no longer have your comic collection and there will be zero dollars heading your way.
This is why YOU MUST sell them to someone using secure and tracked shipping, be that if they pay or you do.
This is part of earning your business when you deal with Quality Comix.
We pay for secure, tracked and fully insured shipping so nothing goes missing. And in the rare event, it did go missing, there is compensation for both parties. (But we haven't had a shipment go missing in 20 years).
Get A Fair Price For Your Collection (Because That's What You Deserve)
Perhaps the most common pitfall comes with getting a fair price for your comics.
People buy comic books either for their own collection/ pleasure or to make money.
So, be prepared for comic 'sharks' to quote less than the market value for your comics.
Here at Quality Comix, we created an online tool that processes over 3 Million sales transactions and historical trends, leaving eBay and guidebook data in the dust.
This means that you get a fair price for your collection. No if's, no buts.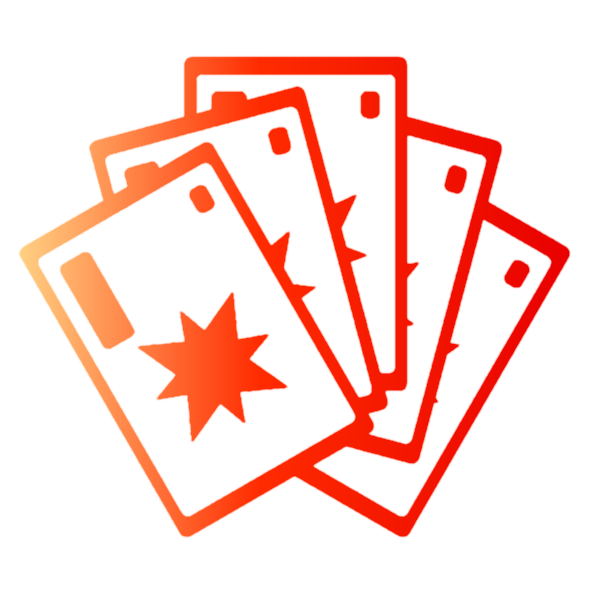 OK, so there you have the pitfalls you need to be wary of.
Let's break down exactly how to sell your comics.
Get A Price For Your Comic Books
The first objective that you need to complete is to get a value for your comic book collection.
We go into the whole process and explain how in our Free E-book on selling your comic collection. Click here to download your copy.
But here are the methods of how you can get a price for your comics.
Use eBay: Yes a lot of people sell comic books on eBay, so you can check the price of your collection, one by one on the platform (yes, this will take a while).
Use A Paid Service: For a small fee, you can use a paid service to grab yourself a price for your comics.
Use Our Free Service: Yes, I know we come back to ourselves again, but the reality is that we built our service for the sale of comic books online.
So, we knew people would need to find out how much their comic books are worth. That's why our online valuation process is (in our opinion) the fastest and most realistic way to get a fair price for your comic collection.
Grading Your Comic Books
There is one HUGE issue with getting a ballpark price for your comics.
When it comes to the actual sale of them, you might find you get far less than what you wanted.
So why does this happen?
Well, it comes down to the actual quality of the comics.
So, if your comics are suffering from having been stored in a cold, damp basement for 10 years, you might not get the price you want.
To avoid this you can have your comic collection commercially graded.
This uses a commercial service where you send your comics to a grading company and they actually give them a label with a grade. This can sometimes help you to get a better price from a buyer.
We do have a word of warning though.
It can be very expensive.
To get 200 comics graded you would be looking at a cost of around $10,000.
And yes, that's before you sell them!
Where To Sell Your Comics
Now, assuming we haven't put you off just yet. You might be wondering where you can actually sell your comics. So here is our list:
eBay

Yes, the same marketplace where you can buy everything from a lawnmower to a pack of Spiderman underpants is the place where you can sell your collection.

Collector Forums

Although forums died a little with the rise of social media, they do still exist and yes, there are Comic Collector ones.

Social Media

From local market places to collector groups, social media is one avenue to go down when selling your comics. Although, we wouldn't recommend it as there is a lot of risk involved.

Auction Houses

This is one place you can sell but it is going to require you to get your books graded first.

Local Comic Book Stores

If you have a store locally, give them a call. Many will buy your collection from you.

Comic Dealers & Brokers

This is one place you can sell but it is going to require you to get your books graded first.
This is where we come in.
As the world's #1 vintage comic book reseller, we know our market like the back of our hand and we will be able to give you a fair price for your collection and make it a stress-free experience.
Now, the above is just an overview of the process of selling your comics.
For an in-depth guide that covers everything from grading and much more, please click the button below to download our FREE e-book on selling your comic book collection.
Now, you might be wondering WHO is giving you all of this free advice, what's in it for them and even be thinking 'why are they telling me all of this?'
Well, let me introduce myself.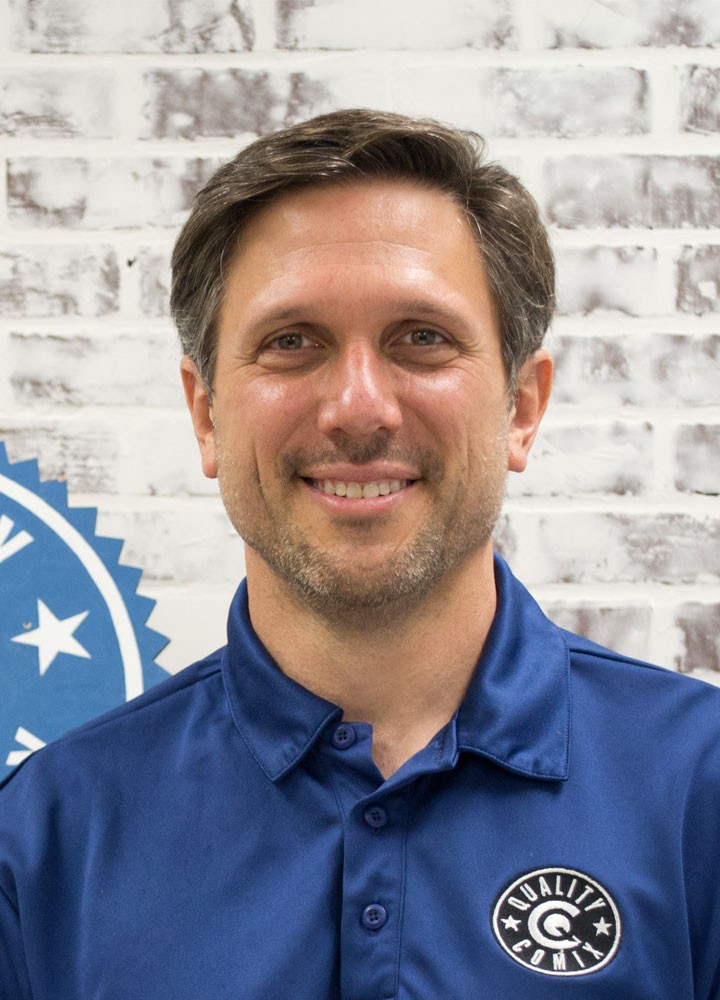 Revealed: How A Life-Long Fan Of Comics Created America's Number 1 Vintage Online Comic Book Store
Hi, I'm Brent Moeshlin, founder and CEO of Quality Comix.
Today I am known as the owner of America's largest online vintage comic book store that buys 250,000 vintage comic books every year.
But it didn't start this way.
You see, like many, I grew up loving comic books.
And I built up my own collection over the years. But life has a habit of getting in the way of things and I joined the Air Force where I served for 4 years working within the computer programming division.
After being honourably from the Air Force I quickly fell back into my comic collecting ways.
And it wasn't long before I started selling some of my collection to buy more valuable comics.
And that was how it started.
It was my passion for the comic book industry that fed my desire to build the Number 1 online vintage comic book shop.
A place where both buyers and sellers of comics would be treated with respect, superb customer service and a streamlined way to buy and sell comics.
And that's why I want you to sell me your comic book collection.
How To Sell Your Comic Book Collection In Record Time And For A Fair Price
So, here we are.
I have given you a lot to think about and yes, I would love the opportunity to purchase your comic book collection.
But I know you might still need more time and more information.
I totally get that.
So, I have put together a detailed and FREE e-book that takes you through each part of the comic book selling process.
Just click the button below to download your free copy.
All we need is your name and email details, so we know where to send it to.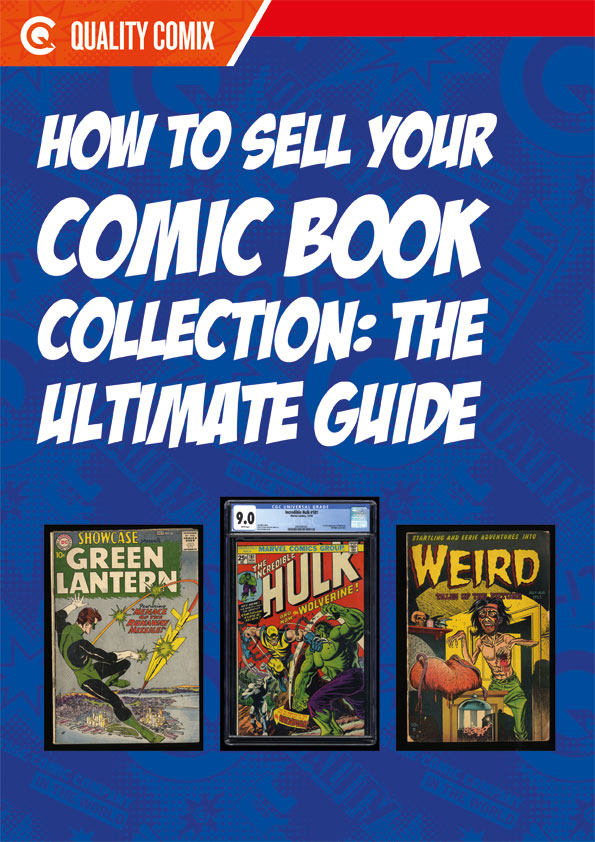 But if you are ready to start talking about the sale of your comics, here's what to do now.
Step 1
Fill out the form below with a description of your collection and condition. If you have a list of all titles and issue numbers, you get an offer faster.
Step 2
Our team of expert graders will review your information.
Then, we make an offer to you based on the description of the comics you submit within 48 hours (often sooner).
Step 3
You accept our offer and receive a purchase agreement right away!
If you have any questions please call 1-800-548-3314 and our team will be happy to help.