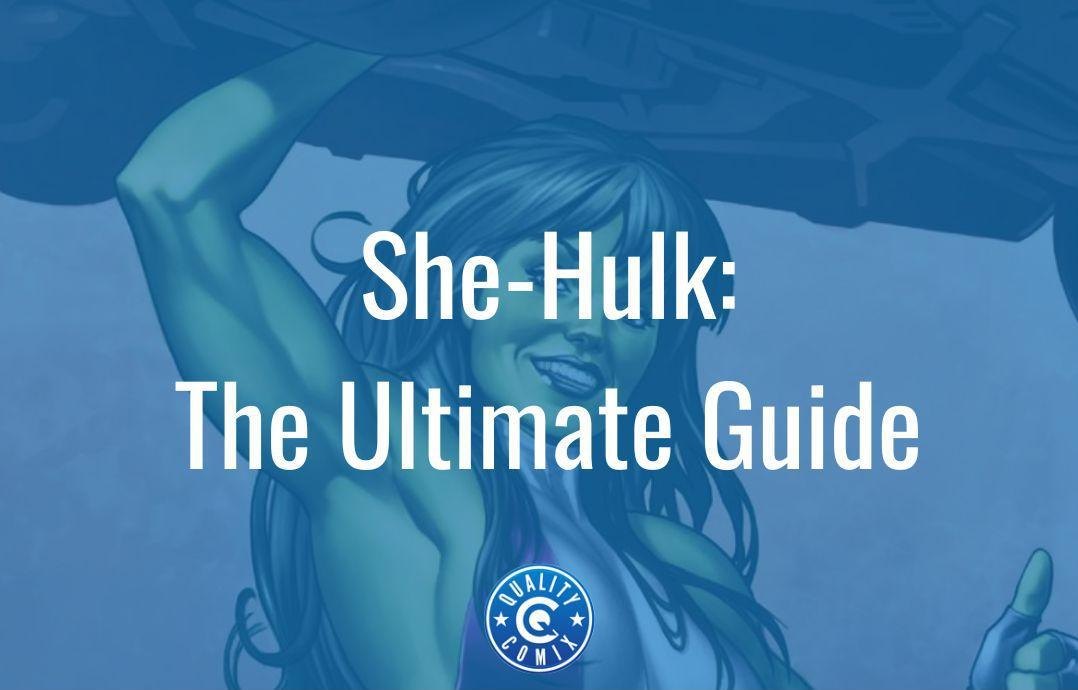 (Image credit: Marvel Comics)
In 2019, Disney+ revealed three new Marvel Studios shows in the works - Ms. Marvel, Moon Knight, and, of course, She-Hulk. The highly anticipated She-Hulk: Attorney at Law recently premiered in the US on August 18, 2022, shooting the character straight into the spotlight across the world. The show stars Tatiana Maslany (of Orphan Black fame), who takes on the title role as Jennifer Walters - otherwise known as She-Hulk. So, with the show's successful premier, this begs the question - who exactly is She-Hulk? Here is She-Hulk: The Ultimate Guide to the comics.
Who Is She-Hulk?
Like all superheroes, the origins of She-Hulk begin a little more pedestrian. For She-Hulk, the story starts out with Jennifer who, though not yet green nor possessing super strength, was still arguably impressive pre-transformation.
Jennifer Walters: Attorney at Law
The daughter of Elaine Walters (nee Banner) and Sheriff Morris Walters, Jennifer Sue Walters is a successful attorney, having graduated summa cum laude from Harvard University and UCLA.
Jennifer is the cousin of Bruce Banner, otherwise known as the Incredible Hulk. Despite being close to Bruce as children, Jennifer did not speak to Bruce for many years, until he visited her in Los Angeles to reveal that he had become the Hulk.
Jennifer invited Bruce back to her home to talk about the transformation, at which point Jennifer is shot and mortally wounded.
Turning into She-Hulk
Seeing that his cousin would surely die, Bruce used his own blood to perform an emergency blood transfusion. Though Jennifer did indeed die, briefly, the transfusion caused her to come back to life.
After another attempt on her life, the gamma radiation in her blood, thanks to Bruce's transfusion, activated. From this point on, Jennifer now has the ability to transform into what we know of as She-Hulk.
Abilities and powers
As She-Hulk, Jennifer has superhuman abilities, though not to the same extent as her cousin the Hulk. Among these abilities are:
Superhuman stamina
Agility
Sharp reflexes
Speed

In fact, She-Hulk is the strongest superheroine in the entire Marvel Universe. These abilities can be heightened whenever She-Hulk is angry or scared. However, she also retains her personality and cognitive abilities when she 'Hulks out', unlike Bruce. She can also change between her human and Hulk forms on demand. She-Hulk has tough skin, meaning that she has no need for any armor. Instead of sets of armor, She-Hulk is typically stylized in a Vibranium Containment swimsuit-like outfit. It is theorized that She-Hulk is aware of the multiverse and metaverse since she is known to frequently break the fourth wall - a stylistic choice also carried through into the new TV series. In addition to her powers, She-Hulk is highly skilled in martial arts and in hand-to-hand combat - the latter of which she was trained in by Gamora and Captain America - and is a proficient pilot, even in outer space.
Which Comics Does She-Hulk Appear in?
First appearing in print in February 1980, She-Hulk comes thanks to the imagination of writer Stan Lee and artist John Buscema. Let's take a look at her cameos and starring roles in comic books throughout the last 40 years.
The Savage She-Hulk
Marvel Comics came out with The Savage She-Hulk #1 in February 1980, in part so that a female version of The Hulk couldn't retroactively be added to the Marvel Universe (ensuring all rights are owned by Marvel Comics themselves).
The original character for the All-New Savage She-Hulk is regarded as the final character created by Stan Lee - although he only completed the first issue. The Savage She-Hulk's run ended after its 25th issue in March 1982.
The Avengers
She-Hulk joins The Avengers for the first time in issue #221 in July 1982. Most notably, during her tenure as an Avenger, she sides with Tony Stark's Iron Man during Civil War (whom She-Hulk fans will also note she has a relationship with at one point) and becomes Iron Fist for a short time, sometimes stylized as Iron Hulk, in Vol.8 #37 (2020).
The Incredible Hulk
As Bruce Banner's cousin, it is only logical that She-Hulk makes numerous guest appearances throughout the Incredible Hulk comic series over the years.
Fantastic Four
She-Hulk first teams up with the Fantastic Four in April 1984, in issue #265. She then continues to appear in various issues until she gets her own solo title again, The Sensational She-Hulk, which you can order your copies of at the Quality Comix store.
The Sensational She-Hulk
In 1989, The Sensational She-Hulk was released, running for 60 issues until 1994, making the She-Hulk's comics the longest-running solo superheroine title up to that point. The series features cameos from our favorite Marvel characters, like Spider-Man and Luke Cage.
She-Hulk
The character was rebooted in 2004 in another series, titled simply "She-Hulk", which ran to 2009.
One-Shots, Limited Series, Mini-Series, and Team-Ups
She-Hulk also features in Fantastic Force, Doc Samson, Thing, and She-Hulk, and She-Hulk: Ceremony, a two-part issue mini-series in 1990.
Who Is She-Hulk's Nemesis?
Now, for the audience, part of the fun of watching your favorite superhero try to go about their business (which often has a side of "saving the world from impending doom" thrown in) is seeing how they fare against villainous forces. And, for She-Hulk, you'll be delighted to hear it's no different…
Original Nemesis: Nicholas Trask
Nicholas Trask is a crime boss who killed Jennifer's mother (although this is retconned to a car crash involving a drunk driver in The Sensational She-Hulk #53). It was agents of Trask that then shot Jennifer later on, leading to her needing the blood transfusion from the Hulk that caused her transition. During the Savage She-Hulk comics, Trask makes another attempt on Jennifer's life - this time accidentally killing Jennifer's best friend Jill, which causes a massive ripple effect in her life. Eventually, Trask is killed whilst trying to drain Roxxon Oil. The drill malfunctions during a fight with She-Hulk, dragging Trask underneath the earth.
Arch-Nemesis: Titania
She-Hulk's arch-nemesis has to be Titania, who is the antithesis of everything Jennifer Walters represents. She first appears in the Secret Wars series, in issue #3 in July 1984 - but her first appearance in She-Hulk's own series isn't until Sensational She-Hulk #49, almost a decade later. You can discover Titania in the new MCU TV series, the role portrayed by Jameela Jamil. However, head writer Jessica Gao has revealed that this version of Titania will differ from the comics - in what ways, and to what degree, we will have to wait and see how the story plays out!
Discover Every Iteration of She-Hulk in the Original Comics, Direct from Quality Comix
Enjoyed this She-Hulk: The Ultimate Guide? Whether you are looking to brush up on She-Hulk before you watch the show, see how much it sticks to the comic books, or are simply looking for new comic books to explore, look no further than Quality Comix.
With a wide range of vintage and collectible comics on offer, and over 20 years of experience, Quality Comix is perfectly placed to provide you with all your comic book needs, as well as expert advice and assistance.
There's no wonder that Quality Comix is lauded as America's Number 1 vintage online comic book store.
Find out yourself by browsing our new comic book arrivals today.