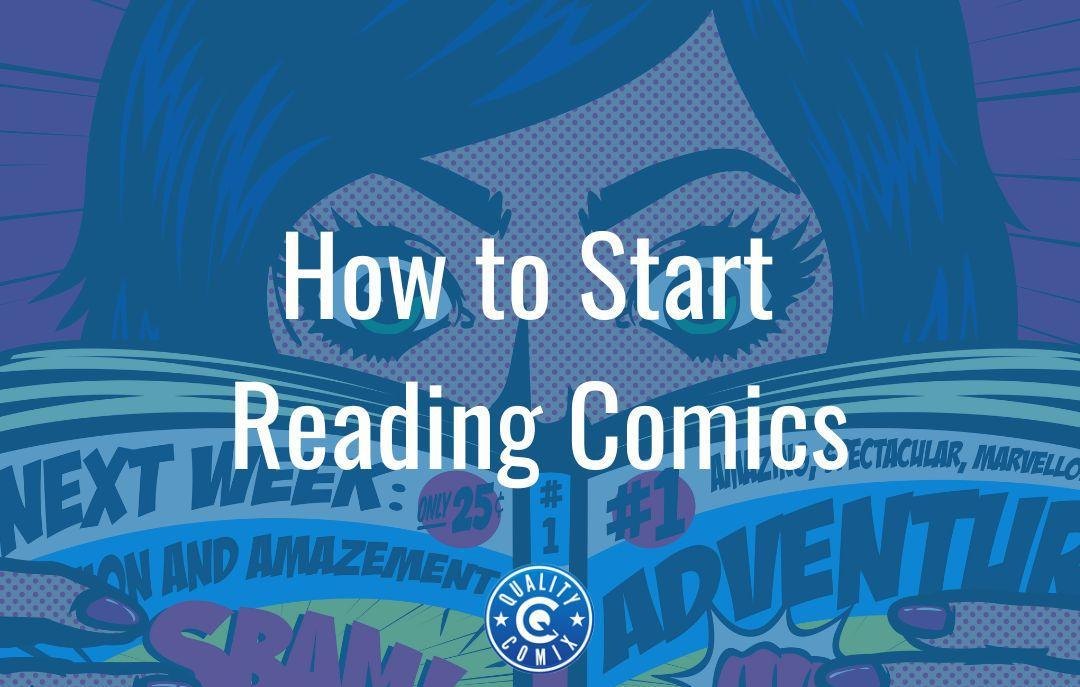 Starting the journey of reading comic books is enjoyable - but, to a beginner, it can also seem very daunting. Rather than starting off with a comic randomly picked off the shelf, we've put together this handy beginner's guide that will give you some tips on how best to dive in.
How to Start Reading Comics: First, Pick Your Publisher
There is a vast range of comic book publishers within the illustrated story scene, and some of the most popular types give a good idea on where to start. Spend some time researching different publishers, and see what interests you the most.
Marvel vs DC Comics
Most beginners find it helpful to start with DC comic book classics from the 2000s and move on to the DC Rebirth books from 2016. Similarly, it can help to start with some of the more recent Marvel comics, before taking a look at the more rare and vintage collectibles.
Both Marvel and DC have decades upon decades of publication history for you to explore, giving you an almost limitless range of stories for you to choose from.
Next, Find a Superhero That You Like!
When reading a comic book, you don't want something that feels like a bedtime story. You want to be fully engaged in the superhero's tasks and truly feel like you're in their world. The best way to ensure this is to find a superhero that you really like and are willing to spend countless hours devoted to.
Here are a few of the most famous:
Spiderman
The first-ever Spiderman comic was published by Marvel in 1962 and to this day Spiderman continues to be the number one superhero in the world.
The universe where Spiderman was created is Earth 616, or, simply, the most widely recognized Marvel Universe. There are several other universes where Spiderman appears, but Earth 616 is arguably the biggest within Marvel Comics.
For some recommendations on the best Spider-Man comics to start out with, click here for our guide.
Batman
The first Batman comic book was published even earlier than Spiderman's debut – it came out in 1939! There are tons of Batman and Justice League of America story content and it's unlikely you'll get the chance to read it all, so we'd recommend beginning with those created during the 1960s in what was known as the Silver Age of comic books.
Superman
If you like the idea of Superman and the Justice League, you might want to start here by choosing an interesting piece from the classic Superman comics. These comics were published between 1938 and 1985. These are the predecessors to the follow-up stories coined "From Man of Steel to Death of Superman" and those which take place in 2000s and beyond.
Captain America
It can be especially difficult knowing where to start reading Captain America comics. The very early issues from the 1940s are extremely difficult to find, so a good starting point to get a feel for the general environment is to start with Winter Soldier and Civil War. These feature the most important events that occur within the Marvel Universe and are key reading if you wish to get a complete understanding of the world of Captain America.
Iron Man
As always, the best way to start off with the Iron Man comics is to begin with the originals, if you can source them. At Quality Comix, we are renowned for housing rare and collectible comics, so take a look at our online comic book store if you're after an especially vintage edition.
If you've watched the more recent Iron Man films, you'll notice some differences in the original comics - but keep at it, and we promise you it'll be worth it.
The Incredible Hulk
Depending on how familiar you are with the Hulk universe and just how many comics you want to read, our recommendations of where to begin are:
The original "The Coming of the Hulk" from 1962
Incredible Hulk series from 1968
Hulk #1 from 2018
For the full experience and for maximum enjoyment, we of course recommend starting with the original and watching the story unfold from there.
Thor
Thor is arguably one of the most iconic Marvel superheroes of all time, making the Thor comic books perfect reads for those getting into comics for the first time – here are some iconic Thor quotes to give you an insight.
The original Thor, created by Jack Kirby in the 1950s, was very different from the Marvel type we see today. This original character was featured in 1962's "Journey into Mystery" #83 through to 1966s Thor #126 where the Superhero himself changed with the help of Stan Lee and Larry Lieber.
Finally, Find a Storyline That Grabs Your Attention
While it's important that you like the superhero you're predominantly reading about, the storyline has to be one that grabs your attention and keeps you enthralled or you won't want to continue reading. Below are some of our top comic suggestions for those who are just beginning to get into comics.
Our Top Comic Suggestions for Beginners:
Secret Origins – As you might have guessed from the title, this book collects the origins of many different DC characters, including the Justice League Dark, and is a fantastic way for a beginner to gain a lot of knowledge about the more modern DC universe.
Justice League: Origin – Similarly to the above suggestion, this book features many short descriptions and provides explanations for a range of different superheroes. In this comic, Batman chooses to unite with other heroes to form the Justice League.
Suicide Squad: Kicked in the Teeth – Without spoiling anything, let's just say that reading about villains is just as much fun as hearing about the heroes. If you're after a funny graphic novel that lays out the stories of characters in a novel way, this comic is for you.
Ultimately, reading comics should be fun and not overwhelming. Our best advice is to pick a book based on the above and just get reading! You don't need to be solely reading about those overtly "popular" characters to be "doing it right".
Here at Quality Comix, we stock hundreds of comics with accurate grading, so be sure to check out the store and find a comic that you love.